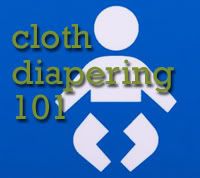 Anyone looking into the world of cloth diapers for the first time can feel very overwhelmed. There are so many different websites with so many different types of diapers available that it's easy to experience information overload. But cloth diapering is really very simple once you find the system that works for you.
There are certainly some variations, but overall, there are four basic types of cloth diapering systems. All systems include some sort of absorbent cloth next to the skin, as well as a waterproof outer layer.
1. Prefolds and Covers
This is the primary system I use. A prefold is a piece of cloth that has been folded up and sewn to stay that way–hence the name. A prefold diaper looks like this:

Photo from Diaperware
These are NOT the same as the cheapy brands you can buy at Target or Babies-R-Us; they are far more absorbent and much better quality. You can fasten them on your baby with diaper pins or a Snappi. A Snappi is a little stretchy plastic fastener that has grippers like an Ace bandage. It looks like this:

Photo from Satara, Inc.
So, that's the absorbent part; you still need a waterproof cover (also called a wrap) over the cloth diaper. These are usually shaped just like a disposable diaper, but they are made of a waterproof fabric (usually polyurethane laminate, or PUL – which is more breathable than the old vinyl covers), and they fasten either with Aplix (heavy-duty Velcro) or snaps. There are many brands, but here is one example:

Photo from Imse Vimse
You can just air out the covers between changes, swapping them back and forth, and re-use them until wash day (unless they get poop on them – then, into the diaper pail they go).
Advantages of Prefolds
1. This is the cheapest way to do cloth diapers by far–that's why it's our primary system!
2. The prefolds are the easiest kind of cloth diaper to get really clean.
3. The waterproof cover is separate from the cloth, so you can take better care of it and it will last longer. The waterproof covers really shouldn't go in the dryer or they won't last as long.
Disadvantages of Prefolds
The only disadvantage I find to this system is that it is less convenient than some of the other systems because you have more pieces (the diaper, the cover, plus a Snappi or pins). Because of that, other people like babysitters, grandparents, and child-care workers get nervous about it.
2. Fitteds and Covers
A fitted diaper is like a prefold, except that it requires no folding and no pins–it is already in the shape of a diaper (like a disposable), and fastens either with Aplix or snaps. Here is an example of a fitted diaper: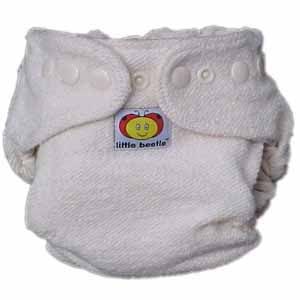 Photo from Wildflower Diapers
I have also used this system, and I really like it. Grandparents and babysitters tend to be a lot more comfortable with fitteds than prefolds. You still need to use a waterproof cover on these fitted diapers, just like with the prefolds (see the cover above). Besides the PUL covers, another popular choice for is a wool cover. Wool is very breathable, so it's great for night-time (or anytime, really) and doesn't need to be washed very often; just aired out, unless poop gets on them. Wool covers are expensive, though, so we only have two, and only use them at night. Here's an example of a wool cover: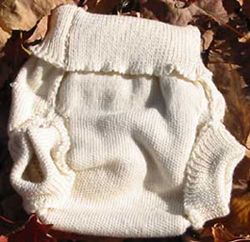 Photo from Babyworks
Advantages of Fitteds & Covers
1. This is still a pretty cheap way to do cloth diapers.
2. Fitteds are easier than prefolds because they're already diaper-shaped, and you don't have to deal with pins or Snappis.
3. The waterproof outer layer is still separate from the cloth, which means it will dry faster and last longer.
Disadvantages of Fitteds & Covers
1. Fitteds are still not as convenient and easy as some of the other systems I will cover next.
2. Fitteds are not as cheap as prefolds.
3. Pocket Diapers
Pocket diapers can be a little hard to explain. With a pocket diaper, there is an outer waterproof layer made of PUL that is sewn to a cloth layer which goes against the skin, and there is an opening left in the back between the two. Here's an example of a pocket diaper: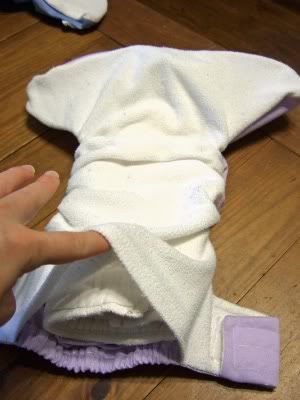 Photo from The International Breastfeeding Symbol
You put an absorbent insert into that opening, and then you remove the insert for washing and put the insert and diaper both into the wash together. Most brands come with their own inserts, or you can use prefolds or purchase additional inserts. The whole diaper fastens with either Aplix or snaps. We use these at night, too, and they are very absorbent.
Advantages of Pocket Diapers
1. This system is easy and convenient–you can have a bunch of diapers with inserts already inside of them at the changing table and in the diaper bag, so you just pull one out and put it on your baby. Babysitters will love it.
2. You can separate the inserts out from the rest of the diaper for washing and drying, so you get the inserts really clean. Then you can dry the inserts in the dryer, and you can line-dry the rest of the diaper, which means it will last longer.
Disadvantages of Pocket Diapers
1. They're a bit more expensive than the first two options.
2. It's a little bit harder to get the diaper itself really clean. I have found that anytime the cloth against the skin is sewn to the waterproof outer layer, it's just a little harder to really clean them well. But tons of people love and use this system without any problems, myself included.
3. Pocket diapers rarely use natural fibers in the layer that's against the skin–it's usually some sort of polyester microfiber which is designed to wick moisture away from the skin. For many people, that is fine, but some people prefer to stick to natural fibers. There are natural fiber pocket diapers available, but they are hard to find.
4. All-in-Ones
An all-in-one is just what it sounds like – the waterproof layer, the absorbent layer, and the layer against the skin are all sewn together in one diaper. It's diaper shaped, and it fastens with Aplix or snaps–super easy, it's essentially a reusable disposable! Here's an example of an all-in-one diaper: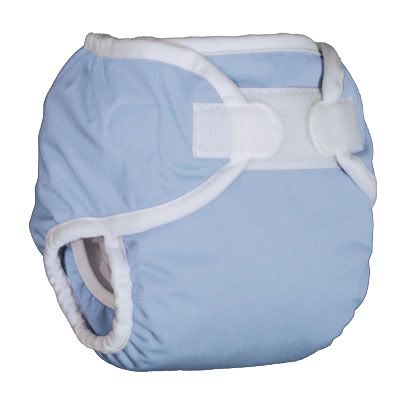 Photo from Southern Homegrown
Advantages of All-in-Ones
1. This is by far the easiest and most convenient system of them all! The grandparents will barely know the difference.
Disadvantages of All-in-Ones
1. All-in-ones are the most expensive of the diapering systems. We're talking between $16-20 per diaper, maybe more. There may be a lot of up-front sticker shock, but you will still save money in the long run over disposables, even if you ONLY use all-in-ones and nothing else. You can re-use them for the next baby and save even more!
2. These are the hardest kind of cloth diaper to get completely clean.
3. They may not last as long as other systems if you put them in the dryer. The PUL will wear out much faster.
That covers all the major cloth diapering systems. As I mentioned, there are a few variations, but for the most part this is what you need to know in order to decide which system will work best for you.
There are a few other things to consider.
Cloth Wipes
Some people like to use cloth wipes, too–it just makes sense to stick the wipe into the diaper after you change the baby (just like you do with disposables) and throw it all into the diaper pail and then into the wash. We use cloth wipes–sometimes. You will need about two to three dozen. I keep a spray bottle with water at the changing table, and either just use spray that onto the bare bottom, or sometimes I use this spray, too, if I need a little extra clean-up help. For really messy diapers, I still use disposable wipes – I just find it easier.
Washing The Diapers
If it's a pee diaper, you can just throw it into the diaper pail. With the poopy ones, you need to wash the poop down the toilet unless they're not eating solids yet–then it can still go straight into the wash. You can dunk them up and down into the toilet, or you can use a sprayer attached to the toilet to spray it off.  Simple Organic contributor Nicole from Gidget Goes Home has an excellent tutorial for making your own toilet sprayer inexpensively.  Here's an example of a toilet sprayer:

Photo from Instructables
I love spraying them with BioKleen Bac-Out–the enzymes start the cleaning process right away and leave no stains behind! Then we have a separate smaller diaper pail in the bathroom where we put those diapers until wash time.
You need to wash about every three days, or you risk the growth of bacteria. You also shouldn't use detergents that leave residue behind–no softeners or scents–it should be totally clean-rinsing. Charlie's Soap is my favorite, but there are a lot of good options. Tsh recently shared how she uses Soapnuts from Laundry Tree.
Here's how I wash: a cold cycle with a full scoop of detergent, a hot cycle with a half scoop of detergent (and maybe some Oxi-Clean Baby if it's really soiled), and then a warm rinse with no detergent, for extra rinsing. Then, covers get hung up to line-dry, and diapers and inserts go into the dryer.
I hope this information is helpful if you're making a decision about cloth diapers. No matter which system you choose, you are making a great choice for the environment and for your budget. And oh yes, I forgot to mention one other factor–they're just so darn cute! Nothing cuter than a baby crawling around with a little cloth diaper on.
If you cloth diaper, which system is your preference? If you don't, or if you're still deciding, what further questions do you have about your choices?