Create an art cabinet: an easy storage solution for craft supplies
You all have asked some amazing questions.  Truly.  It's given me some great writing fodder – I've collated and stored every single query, so I'll sprinkle some of my answers throughout future content this fall here on Simple Mom.
First up – reader Vintage Mommy asks, "I am really struggling to organize my daughter's toys and art/craft supplies in a way that will make it easier to clean up. She is both a packrat and very untidy and I'm starting to go nuts.  Tips?"
Great question.  I organize our art supplies and our toys differently, so I'll tackle one at a time.  Today, I'll do art supplies.
In her book The Creative Family, Amanda Soule suggests designating a separate, unique space in the home for art supplies.  This can be a place that the whole family can use, especially since she recommends quality art supplies for both kids and adults.  In other words, there's no need to separate kids' craft supplies from the grown-ups' – put them all together for everyone to use.
I've taken some of her advice and done the same.  Several of us in our family have a right-brained creative bent, so a well-organized space further fuels our drive to create.  It really helps to have easily-accessible arts and crafts tools.
There are no built-in closets in this country (as is the case in most non-Western countries), so most people use freestanding wardrobes to store their clothing.  Our landlord left an extra wardrobe in our apartment when we moved in, so we eventually transformed it into our art station in the playroom.
In all honesty, it's nothing original – it's simply a place to neatly store those art supplies that can easily get unruly.  And almost everything is recycled.  Our main storage baskets are orange fruit crates donated from a farmer at our local market (all we had to do was ask).


Glass jars store scissors, chalk, beads, and the like – I used leftover scrapbook paper for their labels.  Plastic food containers are repurposed to hold crayons, colored pencils, and markers.  Small sour cream and yogurt containers house smaller items like rubber bands, googely eyes, and stickers.
Supplies like craft sticks, balloons, felt boards, and paper dolls are stored neatly in basic resealable plastic bags.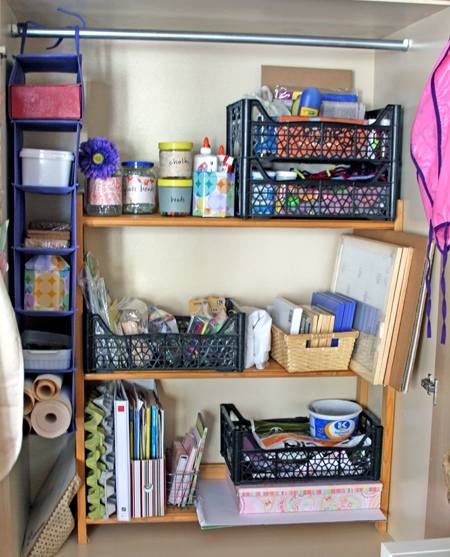 We bought small, inexpensive shelves from a friend and simply set them in the wardrobe.  Our 3-year-old daughter is allowed access to the bottom shelf at any time; she must ask an adult for permission to use the supplies on the middle shelf; and she can only use the supplies on the top shelf (such as paint) with supervision.
And it worked out beautifully that our shoe holder we weren't using fit perfectly next to the shelves.  This is where we store crayons, colored pencils, and easel paper.
I used small tea spoons to hang craft aprons on the door – it didn't take much to bend them into shape so that they hug the top of the door.
The thing I like best about our art cabinet is that once the doors are shut, it looks like a clean, streamlined wardrobe – clutter-free art storage in the playroom.
If your family loves arts and crafts, encourage that hobby and make the supplies easy to access.  You won't use them as much if you have to dig them out of storage, and it'll be messier because all the supplies will be out and about at once.  When you have instant access, you only need to take out what you need.
Head to thrift shops, garage sales, or craigslist to see if a piece of furniture works for you.  I definitely recommend something with doors, so that your home is clutter-free when the doors are shut.  Your storage system doesn't need to be relegated to a kiddie area, either – in fact, Amanda's art closet is in their dining room.
And you don't have to spend much money on canisters for your supplies.  Think outside the box (literally) for your meta-stuff – repurposing containers is cheaper, greener, and more creative.
Does this spark some ideas for you, Vintage?  How about anyone else – how do you store art supplies? I'd love to hear what works for you.
Join thousands of readers
& get Tsh's free weekly email called
5 Quick Things,
where she shares stuff she either created herself or loved from others. (It can be read in under a minute, pinky-swear.)
It's part of Tsh's popular newsletter called Books & Crannies, where she shares thoughts about the intersection of stories & travel, work & play, faith & questions, and more.