Skimp on the unimportant so you can spend on what matters

Photo by Christopher Matson
I love the maxim shared recently by JD Roth at Get Rich Slowly – he says, "You can have anything you want – but you can't have everything you want."
We really can purchase just about anything, or pursue just about any thing.  The key is knowing the attached price tag to what it is you want.
If you want the biggest house in the neighborhood, in the up-and-coming suburb in your city, you could probably buy it.
But you might have to be willing to have a mortgage payment that's 50% of your income.
And unless you have at least a 20% down payment, you need to be okay with PMI.
And – especially if it's a decision made on a whim – you might need to settle for a not-so-great mortgage.
The want: A big house in a nice neighborhood.  The price tag: A lot of money each month for a long time.  Putting yourself at risk for mortgage payments increases and loan defaults.  Is it worth it? Maybe, if your income can handle it.  It's not worth it to me, though.
If you want a high-quality haircut with top of the line highlights, you could set aside the money and pay cash for it.
But it might mean no eating out that month.
And there's a chance you can only treat yourself to this luxury twice a year, especially if you want to eat every now and then.

The want: Great hair.  The cost: Saying no to other creature comforts.
Even with a "recession," we Americans (and other westerners) really are the wealthiest in the world.  Most of us don't realize what pure luxury it is to pursue just about anything we want.
But does that mean we should?
My answer – it depends.  It depends on whether its price is worth it. Just because we want something doesn't mean we should get it, and just because we want it doesn't mean it's inherently bad.  But as wise stewards and as responsible adults and parents, we need to count the cost before splurging on a purchase that might have a higher price tag than we realize.
As JD points out, it's important to curb expenses on the things that don't matter to you so that you can afford the things that do.  Because our family doesn't go into debt, It means we have a finite budget and a limited amount of resources with which to work.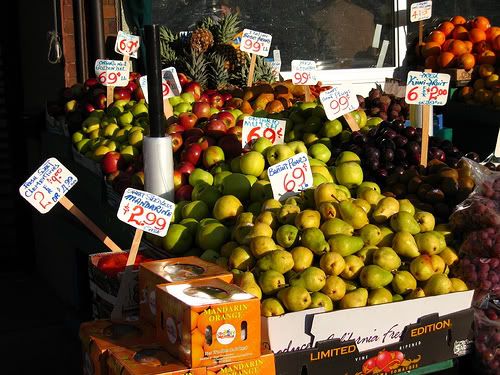 Photo by Gabi
Here's a few ways all this works for me
1. I prefer having quality, name-brand, well-fitting clothes that will last a long time.  The cost? Sometimes a pretty penny for a great piece.  Not having a lot of clothes.  Shopping in thrift stores.
The result? It means I only have a few articles of clothing, and it means I first shop at the thrift stores in the nice neighborhoods.  But this is how I'm able to wear well-made clothing that will stand the test of time.  It's worth it to me.
2. I want this blog to be a place I can be proud of, serving as a portfolio of good-quality writing, a creative outlet for me, a tool with which I can encourage others, and where I can bring in extra money towards our financial baby steps.  The cost? Not much time for things like TV.  Spending energy learning the tools of the trade.
The result? It takes a good chunk of my time each week, but I'm immensely proud of this place and the community that has cultivated.  I've learned so much, I've met some fantastic people, and I'm adding to the family income.  It's absolutely worth it to me.
3. We want to build a home without borrowing much (or any) money, and we want it to be well-built, ideal for our family, and a place where we can live long-term.  The cost? Renting for now, and possibly for awhile, and a chunk of our income going straight into savings for later use.  This means not much extra money for fun luxuries.
The result? Hopefully, we'll have enough to pursue our home plans before we're 80.  We're pretty sure it's worth it for us.
Everything has a price tag.  No matter how we slice it, we're paying for our decisions.  The question to ask is not whether something is cheap or expensive, but rather, it is worth its price?
The answer to that question should determine our decisions.
What are some sacrifices you're making for price tags that are worth it to you?  Are you sacrificing enough in order to afford certain luxuries?  Or are you needlessly sacrificing for something that's just not important?
Join thousands of readers
& get Tsh's free weekly email called
5 Quick Things,
where she shares stuff she either created herself or loved from others. (It can be read in under a minute, pinky-swear.)
It's part of Tsh's popular newsletter called Books & Crannies, where she shares thoughts about the intersection of stories & travel, work & play, faith & questions, and more.