Subscribing to Blogs 101 : the why, the how, & the where
Simple Mom reader Mindy wrote me recently and asked this question:
"I don't have a lot of extra time but I find that blogs can eat up the little bit of time I do have. I find that some people don't update their blog daily or even weekly but I can't remember if I checked their blog today or I check again later in the day if they didn't update. … Do you have a good way to set this up? I don't subscribe to blogs either, because I don't really understand why I would do that."
Well, Mindy, I'm about to tell you how you can save time from continually checking those blogs. You can go to one place to read your favorite blogs' updates, eliminating the need to wander from site to site to see if they've updated.
It's called subscribing! Really.
A recent survey showed that only 5.4 percent of internet users use RSS feeds to subscribe. It's easy for me to overlook explaining certain things that I personally use daily, simply because I forget that not everybody uses them. I'll talk about subscribing to this blog, or to other blogs, but I won't stop to tell you what that means. For that, I apologize.
Consider this your step-by-step guide for explaining what it means to subscribe to a blog, how to do it, and most importantly, why it makes your life simpler.
What is RSS?
RSS stands for "Really Simple Syndication." It's a little piece of technology that allows you to receive up-to-date information from sites in one spot, where you can then read them on your own time. Many times, a blog's RSS is simply called a "feed."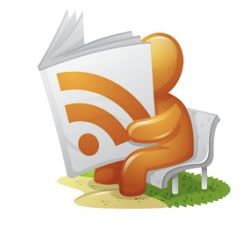 A subscription is a good description for receiving these feeds – think of it as you would subscribing to a magazine or newspaper. It comes to your mailbox when they have new stuff to give you.
What's an RSS Reader?
An RSS reader is a place you go to read your feeds. The most popular ones are Bloglines and Google Reader. I formerly used Bloglines, but I switched to Google Reader awhile back, and I love it. If you already have a Gmail account, I suggest starting with Google Reader, simply because your account is already set up and ready to go.
If you don't want to set up an account at a feed reader, you can also have blog updates sent to your e-mail. Not all blogs allow this yet, but more and more are adding this feature, and it's good for those of you who want everything you read in just one place. By subscribing via email, you receive the exact same updates you would via a reader.
How do I subscribe?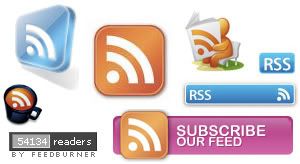 Smart blogs make it easy to subscribe. You'll see little buttons that say 'RSS' (or sometimes 'XML' or 'ATOM'), and you can click on those to take you through the steps. The common, universal symbol is an orange box with three white diagonal stripes. Sometimes you'll also see a little button with a subscription count, and clicking on that will let you subscribe as well (Simple Mom's is in the top right-hand corner).
Smart browsers, like Firefox, also make it easy to subscribe. To the right of a site's URL, you'll see an orange or blue icon if it has a feed. Here's what Simple Mom's URL looks like in Firefox:


Click on that, and you'll be able to subscribe. You'll want to make sure your preferred RSS Reader is defaulted in your browser. Go to your 'preferences,' and choose Google Reader, Bloglines, or whatever as your default choice.
If in doubt, you can always copy the blog's URL and paste it in your reader. It looks like this in Google Reader:

Why should I bother subscribing?
It's simpler. Here at Simple Mom, I share information on how to make your life simpler as a home manager. Your time and energy are precious, so you don't want to needlessly waste them – you have plenty enough to do as you spin all your plates.
Subscribing makes your life simpler because:
1. It saves you time. Instead of you going to all the sites you enjoy, they come to you. And they only come to you when they have something new to share.
2. It saves you mental energy. You don't have to remember the sites you want to read – they're all waiting for you in your reader or your email inbox.
Also, more and more blogs provide perks for their subscribers – extra information, free downloads, e-books, and other things available only via RSS. An example: for Simple Mom's two most recent contests, there was a secret code at the bottom of every post during the contest. You could email me the code, which gave you an extra entry in the contest, doubling your chance of winning.
What should I do now?
1. Sign up for an account with an RSS reader.
2. Click on one of the buttons to subscribe to Simple Mom's feed (shown below with the red arrows).


3. Repeat with all your other favorite blogs.
4. Watch this video if you're a visual learner – it's an excellent RSS 101 tutorial.

5. Link to or email this post if you'd like RSS explained to your blog's readers or friends. Also consider sharing it on Del.icio.us, StumbleUpon, or another bookmarking site by using the buttons below under "Share and Enjoy" (and thanks in advance!). Here's the link to this post, in case you need it:
6. Ask questions or share your thoughts in the comment section of this post.
Was this helpful for you, Mindy? What about everyone else – is subscribing to a blog something new to you? Do you have any other questions? Or is this old hat to you, and you have something to add to the conversation to help other readers like Mindy? I'd love to hear your feedback.
Join thousands of readers
& get Tsh's free weekly email called
5 Quick Things,
where she shares stuff she either created herself or loved from others. (It can be read in under a minute, pinky-swear.)
It's part of Tsh's popular newsletter called Books & Crannies, where she shares thoughts about the intersection of stories & travel, work & play, faith & questions, and more.