Keep your home clutter-free
This is a guest post from Emily at Remodeling This Life. She blogs about her family's adventures in remodeling their home and also about simple and frugal living.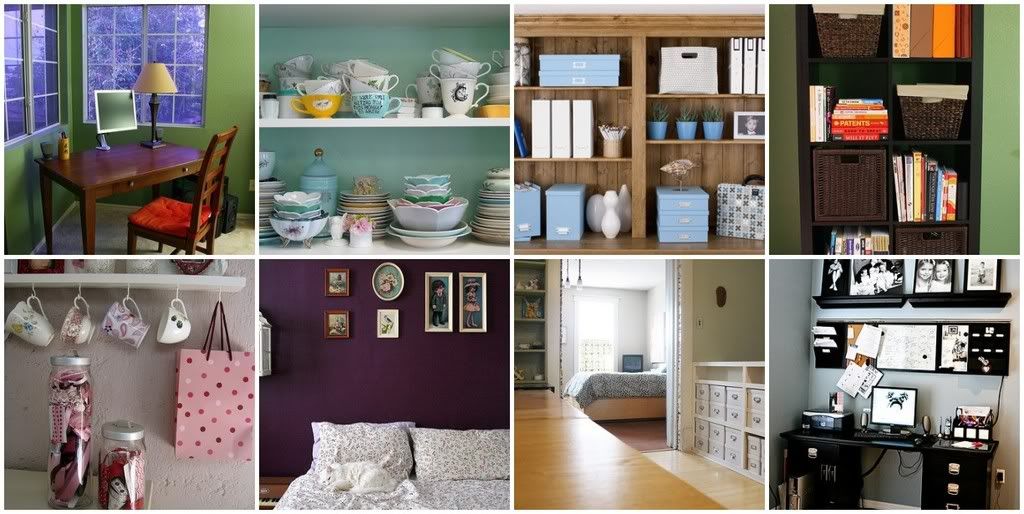 One of the hardest things that I face in my home with a husband and two children is clutter. I feel like I am constantly battling misplaced keys and strewn about toys, wallets and mail. After one too many frustrating times of losing something and running late, I decided it was time to not just declutter, but to stay clutter-free. I decided to stop picking things up from places they don't belong and create ways to keep the clutter from forming in the first place. While I continually had the mindset that once I got my home decluttered it would stay that way, I realized after the umpteenth time doing it that obviously my mindset was wrong. I had to try my hardest to keep the clutter from forming in the first place.
Create A Home For Everything
I decided to implement "Everything has its place". From keys to bags, to shoes, and toys, I created a place for everything to go so that the reason for wallets, keys and cell phones on the buffet was no longer valid.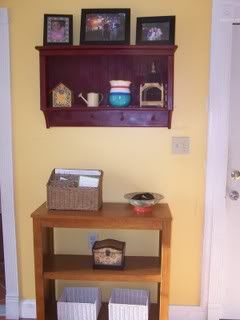 At my entryway, I placed a bowl on the top shelf of the makeshift entry table for sunglasses, cell phones and hubby's wallet. Keys get hung on the hooks of the entry wall shelf, along with hubby's hats. Having a place for these items right where we walk in makes it simple and everything is where it should be when we need it. The sorter next to that is where we put our mail. It has different slots depending on what the mail is and based on importance. This way, the mail doesn't even has a chance of making it to cluttering up a kitchen counter. The two white baskets on the bottom shelf house kid shoes.
By making a home for the biggest clutter culprits, I made the battle of the clutter that much easier. Instead of replacing misplaced stray items at the end of each day and starting over the next day, I cut the clutter off before it can even get started.
Create Clutter Zones
I know that a constantly clutter-free home is not possible. I don't strive for perfection, and I like to make things user-friendly and simple. I want my home to feel lived in yet not chaotic. I know that every toy is not going to be put back in its proper place every time, and I know that there will be stray clothes that don't go right into the hamper. So I created simple and attractive places that I call Clutter Zones. I allow a drawer full of junk in the kitchen. It actually often acts as a transitional space. It has become mostly a space to put items that hubby uses for working on our home. From screwdrivers to clothespins to batteries and rubberbands, that drawer is the place to go when a stray item is missing and I let it be. In our bedroom, the safe zone is the top of hubby's dresser. It's not attractive, but it is better than the floor and he can freely throw his clothes there until they get tossed into the hamper later or worn again.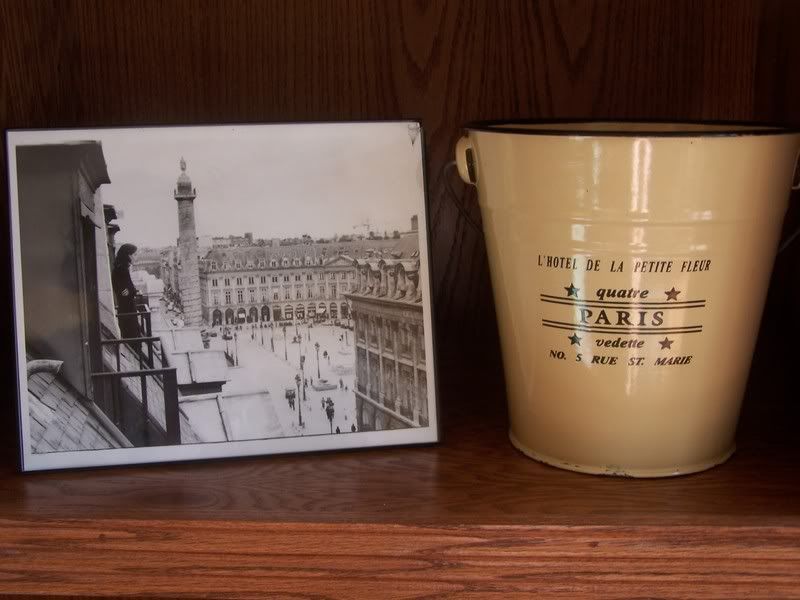 In my living room, I have this one shelf on my entertainment wall unit that is an ode to our anniversary in Paris, but it is multi-functional. The bucket, you see, is the place where toys can get tossed in moments of laziness or hurried tidying. As long as it doesn't stick out above the top, it is allowed to be tossed in there. It keeps things looking nice in the room and is a quick way to clean up toy chaos on short notice. This is a favorite for my kids, as apparently walking to the play room to put the toys away is a bit too energy consuming.
Routine
By creating a routine and making behaviors habitual, the clutter-free living becomes simpler. Make it a habit that when you walk in the door, stray items like keys and wallets and shoes get placed in their homes and junk mail gets tossed in the garbage. Cutting clutter off at the door is the first key to keeping your clutter-free home that way.
One In, One Out
A large part of the decluttering I have undergone over the past year or so has been to simply get rid of stuff that is unused, not useful or no longer loved in my home.
"Have nothing in your houses that you do not know to be useful or believe to be beautiful." – William Morris
And on top of the getting rid of things in mass amounts, begin to adopt the attitude of not bringing something new in unless something old goes out. This adds perspective when considering buying something. If you are going to buy a new pan for the kitchen, an old one has to go. It can seem a bit harsh and of course, there are exceptions to every rule, but it is a good way to prevent the stuff from adding up, which is about the easiest way to keep your home clutter-free.
I truly admire how Emily and her family took a huge leap of faith and chased after a better, simpler life. They moved across the country, bought a little cottage, and are frugally remodeling it, a little at a time. To follow Emily's journey towards a simpler life, I recommend subscribing to her feed!
Join thousands of readers
& get Tsh's free weekly email called
5 Quick Things,
where she shares stuff she either created herself or loved from others. (It can be read in under a minute, pinky-swear.)
It's part of Tsh's popular newsletter called Books & Crannies, where she shares thoughts about the intersection of stories & travel, work & play, faith & questions, and more.