Unless noted, all photos are by the wonderful Emily.
I usually save my link love posts for the weekends, but since I didn't get a chance to do one last weekend because of Blissdom, I thought I'd just jump the gun a little.
My Thoughts About Blissdom
If you have any interest in learning how to make money from your blog, if you really want to network in person with the many bloggers you "meet" online, or if you simply want to take your blog to the next level – whatever that may mean for you – I encourage you to go to a blog conference.  And if you can only afford one blog conference, I really think your choice should be Blissdom.

One of the two cocktail parties at Blissdom.
You learn so much information in such a concentrated amount of time, you can easily get overwhelmed.  But hearing real-life stories about actual blog success can be hard to find online – you just can't beat hearing it from another person, right in front of you.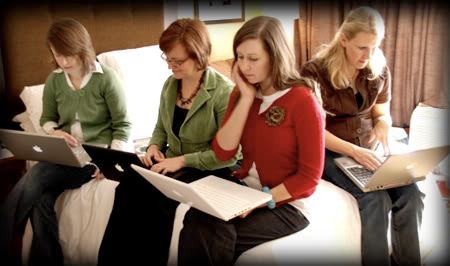 Nester, Melissa, and myself prepping for our panel, while Jen of Balancing Beauty and Bedlam works nearby.
I was privileged to speak alongside some amazing women. I shared the panel floor with Amy of Mom Advice, Meredith of Like Merchant Ships, Tanis of Attack of the Redneck Mommy, Nester of Nesting Place, and Melissa of The Inspired Room – and that was enough to make my weekend complete.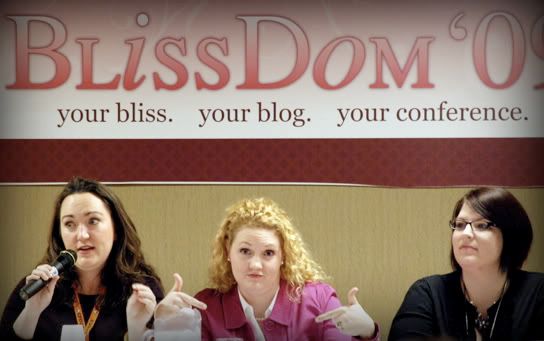 My roommates Megan and Alli, chatting about branding with Arianne of To Think Is To Create.
But I also got to room once more with Alli of Fussypants and Blissfully Domestic and Megan of Velveteen Mind and Blog Nosh Magazine, and that was a ball.  Such a humbled powerhouse of women.
It was wonderful to finally spend time with Shannon of Rocks In My Dryer, Melanie of Blogging Basics 101, Marie of Make and Takes, Stephanie of Adventures in Babywearing, Mandi of Organizing Your Way, and countless others (truly – it would be impossible to list them all).
And the last night, I went out to dinner and sat opposite Christine of From Dates To Diapers, Lori of A Cowboy's Wife and My Wooden Spoon, and Tara of Deal Seeking Mom, and it was so fun to laugh and share the stories you'd never read online.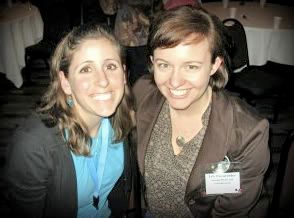 Photos by Lucie (left) and Nicole (right).
Finally, it was wonderful to meet some of Simple Mom's most loyal readers, some of who've been around since the get-go – Lucie of Unconventional Origins, Nicole of Gidget Goes Home, and Michelle of White Trash Mom.  And shockingly, I sat next to Rachel of A Southern Fairy Tale, and it turns out we graduated a year apart from the same high school.  I would have never known.  Such a small world.
I really had a great time.  I was encouraged, inspired, and motivated to keep going on.
Currently Around the Blogosphere
Joan of Simple Kids has a great giveaway going on, and it ends this Sunday.  Please don't miss out on entering to win three beautiful, open-ended toys from Hearth Song – a total value of $150.
Organizing Your Way is a great new site from Mandi, and she's got some great tips for organizing your taxes.  With tax season on the horizon, I love that she's encouraging people to plan now – check out her series on Preparing Your Taxes: Make a Plan, Make a List, and Planning For Next Year.
Leo at Zen Habits wrote a great piece recently called Conquer the Fears Lurking in the Dark Corners of Your Mind.  It's all about facing those things you don't want to face, owning up to those things you wish you could forget.  Well written, Leo.
Rachel at Small Notebook has such a penchant for writing only what needs to be said in a beautifully succinct way.  I love her thoughts about monitoring the sounds in your home.
Lisa Leonard.  Ah, Lisa Leonard…  She was one of the women I was ecstatic to meet at Blissdom, and she's every bit as wonderful as I expected.  But I learned something else about her business that my simple-living heart absolutely swoon – her business is completely debt-free.  It started debt-free, and she plans to keep it debt-free for its entire course.  How great is that!  I love that she's proof it can be done.  And it makes me want to support her all the more.  Not that I wasn't already – her work is amazing, and I'd love one of everything she makes.
And as always, you can browse the rest of my finds in my Tumblr, also found up top in the nav bar.
For those of you at Blissdom – what were your highlights?