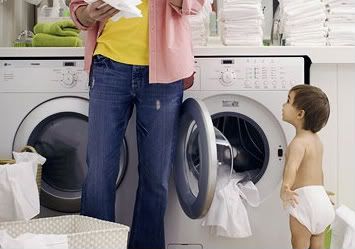 Photo from Parents
Earlier today, I shared the reasons that convinced me to switch to cloth diapering. While those reasons are compelling, some people might still be concerned that cloth diapering is a massive chore. They hear people say it's really not that hard, but it's difficult to believe when parenting little ones is challenging enough! Sometimes, it's just easier to understand a process when you can see it. So today, I've got two videos my husband and I made this week, and hopefully they'll further clear up and confusion about what it's like to use cloth diapers.
The first video is how to put on a prefold diaper, a fitted diaper, and a pocket diaper. Keep in mind that this was just before my son's naptime, and he endured three diaper changes in one changing table sitting. And excuse the suddenness of his rear-end appearance.  Thanks, little guy.
How to Put on Different Types of Cloth Diapers

I didn't demonstrate an all-in-one diaper, but putting one on is exactly the same as a pocket — it's simply sealed where the pocket remains open. There's no difference in how to put one on.
Here are the types of diapers and covers I used in this video (in a few days, I'll have a master list of all the links to brands I recommend, along with scores of other cloth diapering resources):
The second video is the process of dealing with a soiled diaper, washing a load of diapers, hanging them to dry, and then folding or stuffing the diapers so they're ready to use.
How to Clean Cloth Diapers
Here are the products I used in the video:
This didn't make the final cut, but I also keep a simple spray bottle of homemade diaper wipe solution next to the changing table. When I need it, I simply spray a bit on to the wipe, and it cleans up the mess just as well as a disposable wipe — for a fraction of the cost. Here's the recipe:
Homemade Diaper Wipe Solution
1 cup warm water
2 tablespoons baby shampoo or soap
1 tablespoon olive oil
a few drops of essential oil (optional)
Pour all the ingredients into a spray bottle and shake. That's it!
Tomorrow, I'll give a comprehensive review of different diaper brands, along with a fun giveaway from some of these companies. Several of you will win some new cloth diapers to try out for yourself! And then we'll end the Cloth Diapering 101 series this weekend with a full list of helpful links.
What further questions do you have about cloth diapering?