Photo by Angus Woodman
It's good to be back.
While I haven't published any of my own writing in a few weeks (except for the 12 Weeks to Christmas projects), I've been busy. And Simple Mom has been on my mind.
There's a lot in store during November on this little blog – not only will we be gearing up fast and furious for the holidays, we'll also be doing some fabulous giveaways. In fact, the next few weeks could really be called the Month O' Giveaways around here. Stay tuned!
Normally I post relevant articles on Mondays, Wednesdays, and Fridays, with shorter miscellaneous updates as needed on Tuesdays or Thursdays. This week is a bit different, however, since I'm really just now settling in and getting back in the groove. I thought that today, I'd simply share a glimpse of what I've been up to.
1. We Flew Halfway Around the World.

I'm writing this from the U.S., where we've been for right around two weeks. Our motto when traveling with our small children is "expect the worst; hope for the best," and we weren't disappointed. They hardly slept during our 18-hour journey, but overall, the kiddos did well. Jet lag is over, and we're creeping our way slowly back into some semblance of routine.
2. I Spoke at Blissdom '08.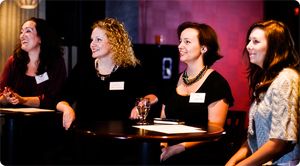 From left to right: Megan, Alli, yours truly, and Nester. Photo by Mishi.
Less than a week in the States, I flew to Nashville and spoke at the Blissdom '08 conference. I had an absolutely wonderful time meeting many of you, and I hope to meet even more at Blissdom '09 in February.
Epson went above and beyond expectations in sponsoring our event. They truly know how to pamper blogging women! We were treated to a kid-free day in a swanky bar, complete with breakfast, lunch, live music, and a cocktail party.


Photo by Mishi.
We chatted, we discussed, we laughed, we cried. It was so great to put a face to many of those names who I can honestly call my friends.
Thanks so much again to Epson, the brilliant Barbara with One2One Network, and my fellow Blissfully Domestic women. I'm honored to network with you!
Oh, and by the way – Epson graciously gave me their latest Artisan 800 printer, and up until now, I don't think I've ever said I loved a printer. But I have now. This thing faxes, scans, photocopies, prints high-resolution photos, creates coloring pages, creates postcards, prints directly on CDs and DVDs, and more. And – it's all done wirelessly. I can print from my laptop clear on the other side of the house. This nifty gadget truly does simplify and streamline our household. I'm truly grateful, Epson.
3. I've been Researching, Writing, and Networking.


As I mentioned, Simple Mom is home to a slew of giveaways this month. From eco products to gourmet nosh to handcrafted jewelry, many of you have a great opportunity to win something. And I hope you do!
I'll also continue with the 12 Weekly Projects to Prepare for Christmas, along with showcasing the sewing submissions for an upcoming event called Handmade for the Holidays. Look for an announcement about that tomorrow.
And I'll continue to publish articles relevant to you as a home manager. I feel enormously blessed to have that privilege as together, we cultivate and nurture the souls who live in our homes.
Thanks, dear readers, for being so generous with my top-notch guest posters over the past few weeks. And thank you again to my fellow bloggers for contributing your wonderful thoughts here on Simple Mom. It's a privilege to work alongside you!
Stay tuned tomorrow for Q&A Tuesday.  And on Wednesday, I've got a fresh article that's geared, as always, towards encouraging you to keep things simple at home.