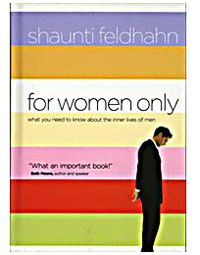 Today is Book Club day, and it's already the last day for For Women Only: What You Need to Know About the Inner Lives of Men.  Anyone and everyone is welcome to join us!  We'll be discussing  chapters 8 and 9 all week, so whenever you're ready, grab your book, answer the posted questions, and share your own.  Chapter 8 is my favorite of the entire book — it was definitely eye-opening for me.
An Important Announcement
It kills me to do this, but I'm going to put the Book Club on hiatus after this week. We're basically going to skip the next book, and pick things back up on November 5 for our last selection of the year, The Seven Habits of Highly Effective Families, by Steven Covey. This book will be a great way to end 2009 and to get us motivated for a new year with a recommitment to our families.
I was looking forward to our next read, but with tight book writing deadlines with my editor, putting the club on hold is my way of simplifying my life and keeping my family from going insane. I'm sure you all understand. Book writing is a finite season, and I need to focus more energy on writing than reading for the moment.
I truly apologize for those of you who've already purchased or read the next book, It's All Too Much. It's an excellent book, so I'm sure you'll still find inspiration from it.
I'm looking forward to our discussion! I'll see you today in the forums.