So far during our Cloth Diapering 101 week, you've heard about the different types of cloth diapers available, why you should at least consider cloth diapers, answers to common misconceptions about cloth diapers, and two videos that show you how to use and clean them. Today, I'm going to review the cloth diaper brands I recommend.
This list is not exhaustive. There are many, many cloth diaper brands that do a great job, and have their superiority for any wide variety of reasons. But I don't want to review something I haven't actually tried, so today's information is solely based on my personal experience. In the comments section, feel free to use similar criteria to add your $.02 about another brand you like.
The reviewed criteria are absorbency, cost, overall fit, drying time (on a clothesline), the cute factor, the company's customer service, and Dad and Grandparent-friendliness. This last category is contributed by my husband, who rated each diaper based on his first-hand experience. Hesitant dads, grandparents, and other caregivers is a major consideration with cloth diapers, so it's important to give honest feedback regarding a diaper's ease of use.
I've rated the diapers in each category from one to five clothespins. Here are the definitions: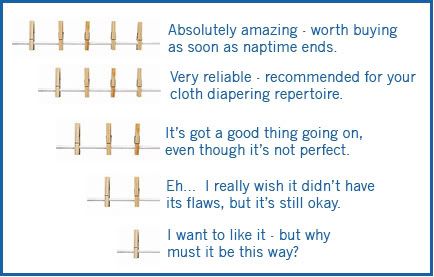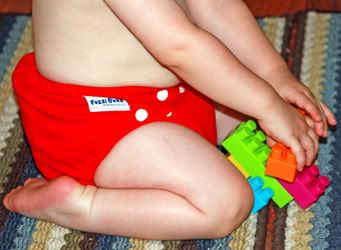 This is a great diaper from FuzziBunz. It's the one we have the most quantity of, so we use one of these almost daily. They're a cinch to snap, and the shape is great around the legs — we've never had a blow-out with one of these. My son is skinny, so the caboose is a little loose, but that means there's plenty of room to add a doubler or extra insert at night. These are one of the fastest-drying diapers we have, and the customer service is wonderful. I've interacted with them a few times, and they've always responded very quickly to my emails. FuzziBunz is a great company.
I also love their other products I have. We use their hanging diaper pail, and we've never had an odor problem. After we wash it with the diapers, it dries really quickly. We carry their travel wet bag in our diaper bag, so the few times we've needed it, there's never been a smell issue — you can't tell anything's in your diaper bag. This comes in handy in other ways, too, since it's waterproof — our older daughter wet her underwear and jeans one time, and we just tossed them in there until we got home. It can also go in the wash.
I like their wipes, too. With their Organic Double-Sided Wipes, one side is cotton and the other side is a soft fleece. They work great for getting off poop, especially in combo with homemade diaper wipe solution.
Overall, I don't think you can go wrong with anything by FuzziBunz.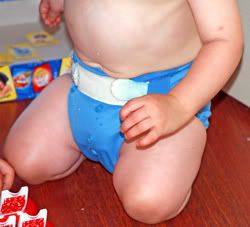 This is a great, quick-drying diaper that fits my trim baby really well. We've never had an explosion in this one, either, and the Aplix (super-strong velcro) stays put. I only have one of these diapers, but I'm happy every time I use it. The insert has snaps so that you can optionally shorten the insert and make it thicker in the front, which is great for a boy. And because you can adjust the size with the snaps in front, you only need one set of these diapers to last from birth to potty.
BumGenius is very popular with cloth diapering mamas, so even though it's on the pricey side, you might be able to find secondhand diapers on the internet.
This is quite the luxurious diaper from Swaddlebees! It's easily adjustable for any size you need, and the inside is a super-soft organic bamboo cotton blend. The Aplix is really strong, too. The best thing about this diaper is the inserts — each diaper comes with two! One is smaller, for the really young age, and the second one is longer that snaps together as a trifold. You can use the smaller insert as a doubler at night, so you've essentially got four layers going on. Each layer is really thin but absorbent — this is often our nighttime diaper.
My only complaint is the cost. It's one of the pricier pocket diapers out there, so if you're interested in Swaddlebees, you could first look secondhand.
• Side Snapping Diaper from BottomBumpers (All-In-One Diaper)
BottomBumpers as more of a hybrid of a pocket and AIO, because BottomBumpers includes a soaker that snaps on top of the inside. It's a double-folded, super-soft organic cotton padding topped with bamboo velour. It's a breeze to snap in because you don't even need to reach inside. But what I love best about these diapers is the fit — for my slim little man, these are the best-fitting diapers we have. They contour wonderfully between the legs, and the side snaps keep it nice and trim on the bottom.
Again, the only issue is the cost. But for an AIO, it's not bad. And I love that I'm supporting a small cottage industry run by a mom.
• Bamboozle from Bummis (Fitted Diaper)

Oh my goodness, I love this diaper from Bummis. This diaper has four layers of bamboo, which means it's compact yet super-absorbent. It is unbelievably soft! I love that a 100% bamboo is so eco-friendly — bamboo is a renewable resource with a very short growth cycle and it is grown without fertilizers or pesticides. Plus, it's breathable, cool, and absorbs 60% more than cotton. This is one of our favorite diapers, and I'd have more if it weren't for the cost. Still, I love how slim-fitting these diapers are. There's absolutely no puffy bum here.  He's wearing this diaper under the Imse Vimse Organic Wrap photo, reviewed below.
These are the prefolds that come with Bummis' Organic Cotton Diaper Kit, a complete diapering system in a box. These unbleached prefolds are super absorbent and soft, and they're a great size for my son — he's wearing one under the Bummis Super Brite Wrap photo, reviewed below. So far, they've held up very well. As we've mentioned all week, the best benefit of prefolds is the cost — they're definitely the cheapest cloth diaper available. But I also love their versatility — you can fold them a myriad of ways to fit your baby, and depending on the wrap you use, you could hold it together with a Snappi or simply hold it securely within the wrap. Don't be intimidated by the idea of prefolds. Once you get the hang of them, diaper changing goes really quickly.
The main downside is possible reluctance from dads, grandparents, or other caregivers. If this is the case, and you want to mostly use prefolds and wraps, I'd recommend still using a few pockets or AIOs, and they can use these when it's their turn.
Bummis makes great wraps! I love both my Super Brite wrap in Blue and my Super Whisper wrap in Froggy Pond. They fit really well around a Bamboozle or a prefold, and the gussets around the legs has meant no leaks at all. I also like that there's a little pocket in front so that you can slip in a prefold without Snappis. The Aplix on these guys are also the strongest I've seen — there's no way my son could ever take this off. And since these are quite popular wraps, you're likely to find some secondhand.
This is a very lightweight, soft cover with the most adorable farm print. I think this is my favorite in the cute department! The hook and closure front is softer, but our son has never been able to remove this. I do wish there were inside velcro tabs to close up the velcro for wash time, but it's no problem just to adhere it to the front. This cover also fits my son perfectly – there's no bagginess, and the gussets in the legs work wonderfully. It's a bit pricier than other wraps, but if you're going for cute, you can't go wrong with these covers.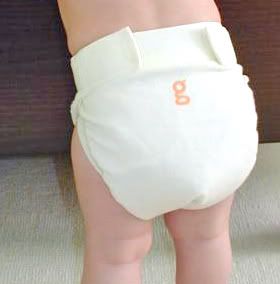 If the thought of cloth diapers still seems challenging to you, then perhaps a hybrid diaper is your answer. gDiapers consist of a washable, cotton outer 'little g' pant and a plastic-free flushable diaper refill. They are made of breathable material just like sports clothing. So the outside is a simple cotton cover, and inside is a detachable waterproof liner. Inside the liner, you add a flushable diaper insert, which makes the diaper absorbent. When it's dirty, you can either flush the insert, compost it (it breaks down in 50-150 days), or even toss it in the trash — there's no plastic, so it's biodegradable. You should still toss poop in the toilet, though.
I thought these would be harder than they were. Putting in the inserts were just as easy as refilling a pocket diaper, and the simple procedure behind flushing the insert is easy, once you get the hang of it. gDiapers' website has a video on how the process works, and their customer service is fabulous — I called them with questions, and the woman on the phone was friendly, down-to-earth, and helpful.
My main complaint is the cost. These diapers are expensive. If your driving factor behind using cloth diapers is cost, then gDiapers aren't for you. You can buy them locally at a wide variety of stores like Whole Foods, but the refill inserts still average about $.47. Quite a bit more than standard disposables. Until their price is lowered, I can't really use gDiapers. But their covers work great as wraps for prefolds, and they're super cute.
In addition to all these diapers, I also highly recommend using Snappis, Bummis BioSoft Liners, Imse Vimse Flushable Liners, and Soapnuts for cleaning. Many of you use all kinds of products, so please share your recommendations in the comments section. We can make this post a resource guide for people overwhelmed by their choices. So please contribute all you can!
Giveaway Time!
Okay, I know you're all curious what the giveaway is about. To celebrate Cloth Diapering 101 week here on Simple Mom, several companies want to give away some of their products to the readers!
• From FuzziBunz, two people will win three pocket diapers — two of their one-size diapers and one of their perfect size diaper. Each set of diapers is worth over $55.
• BottomBumpers will give one reader a three-pack of their all-in-one diapers, worth around $60.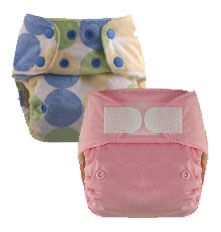 • Swaddlebees is giving one reader two of their diapers, a Blueberry Minky One-Size snap pocket diaper and a Swaddlebees EcoNappi, worth $62.
• Bummis is giving one reader a complete Organic Cotton Diaper Kit, everything you need to start using cloth diapers right away! This kit is worth $169.
For a chance to win any of these prizes, here's what you do:
1. Submit a comment on this post, and do the following: If you're already using cloth diapers (or did, when you had kiddos in diapers), recommend a brand and type of diaper you liked, and why. If you haven't used cloth yet, share one reason you're willing to give it a try.
2.For a second entry, Twitter about this giveaway, using the hashtag #clothdiapers and my Twitter name, @simplemom.
3.For a third entry, write about this giveaway on your own blog, linking back to this post so that I receive a trackback.
This giveaway will only last this weekend — I'll close the entries on Sunday, June 7 at 11:59 EST. I hope you win! And thanks again to these great companies who want to bless the socks off of Simple Mom readers.
This weekend, I'll provide a list of a ton of links — from diaper brands, to stores, to services, to online communities, and more.  Stay tuned!