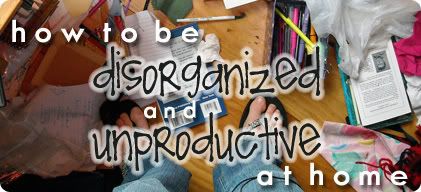 Photo by emiwiki
This is the introduction to a six part series here on Simple Mom.
Lately, I've been getting email after email from readers that sound rather – how shall I put it? – hopeless. A number of you are discouraged in your crucial job of home manager, feeling as though there's an unreachable standard, and you'll never measure up. You read these blogs of women with immaculate menus, perfectly-planned home school curriculum, photos of their clean living rooms, and a smile on their face (with make-up!), and you think – Whoa. That is so not me right now.
Please be encouraged.
The next six articles on Simple Mom will address the top things you should do at home to make sure you end the day feeling exhausted, disorganized, and lazy.
I want to light a little fire under you (and me), that's true. But I also want to revitalize you, to help you rekindle the joy that is to be found by working at home. We have a significant job! And there is pleasure and satisfaction to be found.
I'm learning with you as I go, so please don't think I have this whole wife/mommy/home manager thing down. But I have learned a few lessons about what not to do – things that are almost guaranteed to leave my job unfinished, my body exhausted, and my heart evaporated from my spirit.
I want to outline six essential keys to a deflated attitude, so that you can make sure and leave these off your to-do list, if you don't want to be productive at home.
But if you do want clutter, disorganization, no energy, and a joyless spirit – then by all means, make them a priority.
Ready for them? Be sure and check in tomorrow.
What do you think these six keys are? I'm curious if you can guess them!
Start the series How to be Disorganized & Unproductive at Home from the beginning:
Introduction | Key #6 | Key #5 | Key #4 | Key #3 | Key #2 | Key #1