This giveaway is closed.
We kick off the fourth day of the Week of Giveaways with a company I adore, Laundry Tree. They're the company behind Soapnuts, the genius little things that cleans our family's clothes.
I started using these Soapnuts to wash our cloth diapers, since it's important to not use detergents with chemicals and residue in order to prolong the diapers' absorbency. But since we live overseas, I couldn't afford sky-high shipping charges on natural laundry detergents – so I thought I'd give Soapnuts a whirl.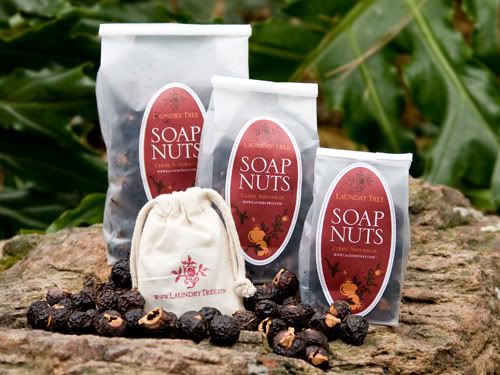 Never heard of Soapnuts? Neither did I, until recently. They're are the fruit of a tree found primarily in India, Indonesia, and Nepal, and they are an ideal alternative to traditional laundry detergents. They are simply harvested, de-seeded, and then dried in the sun. And they work — they really, really work!
They are 100%, totally natural. They are organically grown and are free of harsh chemicals, so they are incredibly gentle on clothes and skin. They're biodegradeable, so they're better for the environment than regular detergent, and they're antimicrobial, so they're even good for septic and greywater systems.
Here's how they work:
You put three to five Soapnuts into the drawstring bag that's included in your kit. Tie the bag closed and toss it directly in with your laundry. That's it! Your clothes are just as clean as using traditional detergents, only with less residue and buildup. There's absolutely no scent, either.
We now use them as our everyday laundry soap, because they're really not that expensive. You can use the same Soap Nuts several times, so a deluxe kit will last almost five months. Break it down, and it's less expensive than traditional detergents.
Seriously, I love this stuff. Lately I've been adding a few drops of Laundry Tree's essential oils into the drawstring bag, so our clothes have been smelling like lavender. Love it.
Laundry Tree is giving one Simple Mom reader a Deluxe Soapnut Kit! It contains everything you'll need to wash 150 to 175 loads of laundry: a 500g bag of soapnuts, three 1-oz. bottles of their most popular fragrances, two sample bags (to use for traveling or share with friends), and one extra washbag.
To win, here's how to enter:
Leave a comment at this post, answering the following question: What article of your household's clothing is the most difficult for you to get clean or keep clean?

The giveaway is open worldwide, and it lasts until this Saturday, May 30. I'll draw the two winners this weekend.
I hope you win! Check back in a few hours for another giveaway.