Today is officially six weeks until Christmas, if you can believe it. You may notice a whole slew of stores and shops featured on the right-hand side – these are all businesses endorsed by Simple Mom for the holiday season. From now until Christmas, I'll be highlighting a few of these cottage industries every week. Each were carefully selected as businesses I truly do endorse as promoting simple living in some fashion. Whether they exist to help life at home, encourage higher-quality playtime for your kids, or I'm simply promoting a well-run mom business so that she can work from home, each company deserves the Simple Mom "mark of approval."
With this in mind – this week's project for preparing for Christmas is to start shopping for your gifts. Or to start making your gifts. I know many of you have already done this (bravo!), but it's not too late to begin the gift buying process and cross it off as "done" in plenty of time.
It'll come as no surprise to you that I advocate not going nuts with gift-giving for the holidays. Many extended families draw names, give only to the children, keep it all homemade, or forego gift giving all together, and I think these are all great ideas. But don't endorse this idea while going crazy for your own family. Hopefully you've already set aside the needed funds for Christmas gifts, so you've got a financial limit. This is a good thing.
Your kids really don't need that much for Christmas. Cut back on the gift giving, and:
the focus will be more on what Christmas is really about,
they'll more deeply appreciate the gifts they are given,
it'll serve as yet another good reminder that life is not all about them, and

your home will be that much more free of clutter.
In our family, the kids get three gifts. That number is kind-of arbitrary (initially stemming from the idea that Jesus was given gold, frankincense, and myrrh – which is not morally black-and-white, but you get the idea). We take our time opening them, and we let them play and enjoy each gift for a while before moving on to the next one.
Yes, our kids are young, so there may come a time when we revisit this idea, especially if they ever want or need something that's higher priced. If that's ever the case, we'll probably just get them that one gift, and involve them in making that decision, further helping them understand why money management is so great.
The adults – my husband and I – talk over gift-giving ahead of time each Christmas, and agree on our boundaries beforehand. Some years, we haven't given each other anything. Other years, we've done $50 each person max. This year, we're getting an iPod and calling it our gift to each other. Regardless of what we do, we keep it simple, and only bother with gifts we truly want or need.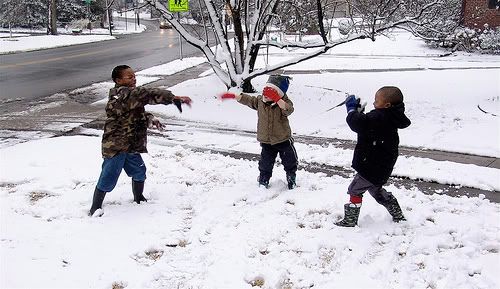 Photo by Steve Spencer
Think about your favorite holiday memories from childhood. How many of them involve an actual gift? I'd wager not many. For me, my favorite memories involve being with people, laughing, playing, crafting and baking, going to Christmas Eve church services, and just being together celebrating the season. That's what your kids will value as adults, too.
Epson Artisan 800 Winner

I know you're all dying to know – after all, there were almost 2,000 entries for the Epson Artisan 800 printer. I don't blame you – the printer rocks my socks off. And really, I can't call it a printer, because it faxes, scans, photocopies, and decorates our home for the holidays. From now on, I'll just call it our fabulous zipzorp.
Anyway – the winner of the Artisan 800 is Shilo of My Place of Peace with her second entry as a subscriber.  Congratulations! Be looking for an email from me soon, so I can send your info off to the right people.
If you didn't win, I highly recommend considering it as a quality tool for your home. Head here to order one, and you'll get a $60 rebate plus an extra set of high-capacity ink. Thank you, Epson, for being so generous to Simple Mom and Blissfully Domestic readers!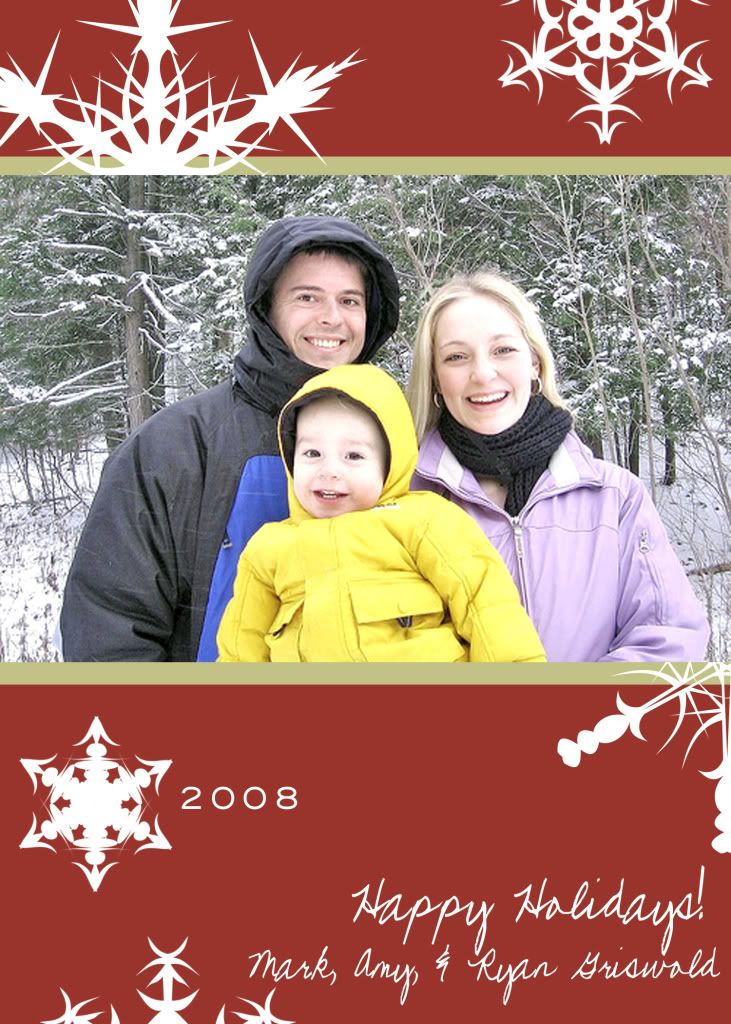 Also, don't forget about the other recent giveaway. If you want to add that extra touch to your holiday cards this year, personalized stamps on Picture It Postage is a fun idea, sure to make the grandparents swoon. And if you're still in the market for holiday photo cards, I naturally endorse my shop, Chickpea Designs. You'll save money if you order in November!
Check back tomorrow for another fun giveaway, perfect for a Christmas gift!
__
What's your family's policy on gift-giving? Trying something new this year?  Share your ideas in the comments.