This giveaway is now closed.

Photo from Flip & Tumble
One of the fun perks to the eco-savvy trend is all the great products out there now. And many times, their initial cost is worth the money-saving benefit they provide in the long run. Today, several of you will have a chance to win some!
Reusable bags are one of the easiest ways to go green – and let's face it, they're so much cuter than plastic grocery bags. Almost 1 trillion plastic bags are annually consumed worldwide, and they're not biodegradable.
In the month I've had my reusable bags, I've thoroughly enjoyed using them. When I whip one out from my purse in the checkout line, the most common response I get is, "Those are so cool!" I don't think I'll ever go back to using plastic.
Here are the brands I've enjoyed using, and who are rewarding a few Simple Mom readers with some of their bags.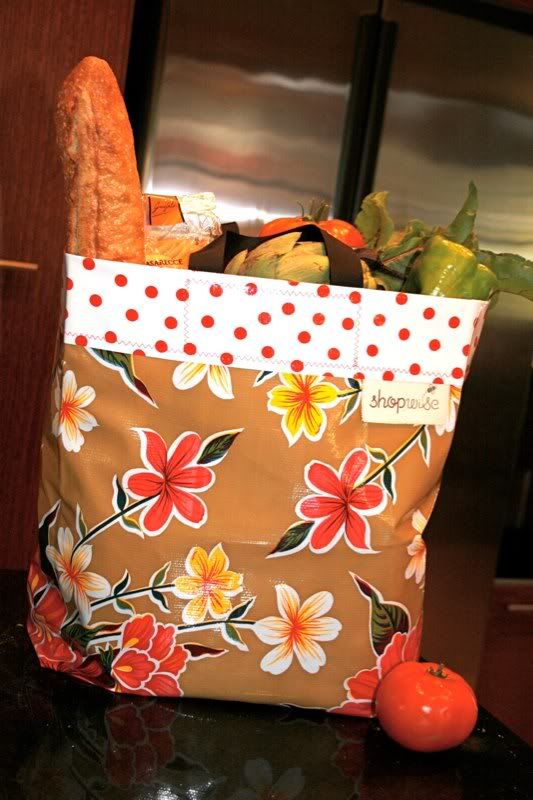 Shop Wise Bags
• Perks – These durable oilcloth bags are shaped just like traditional grocery sacks, so they fold up nicely and stand up well. I've been using mine lately to cart around diapers, wipes, and a change of clothes for my kids in the car. And I love all their great patterns and colors.
• Giveaway – One reader will win a set of three high-quality Shop Wise bags!
Envirosax
• Perks – These bags are much bigger than they seem. They hold so much stuff, and they're easy to fold up and secure with the velcro tabs. They're pretty, too.
• Giveaway – One reader will win a set of five Envirosax bags!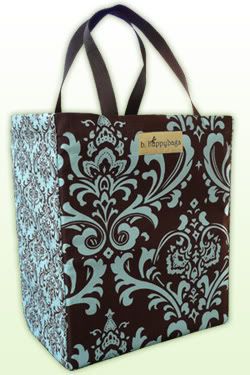 B. Happybags
• Perks – These high-quality, durable canvas bags can hold a lot of stuff, and their wide openings mean I can toss big things along with no problem. Plus, they're adorable.
• Giveaway – One reader will win four B. Happybags!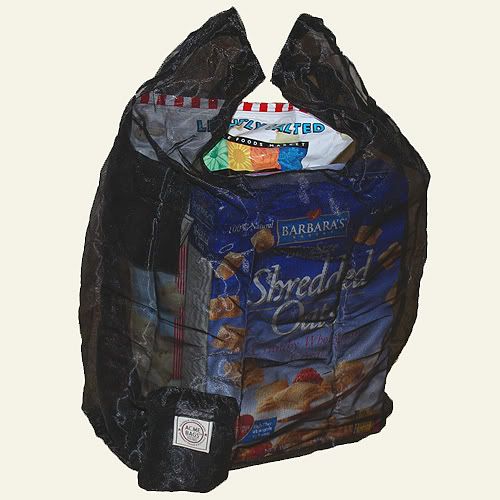 ACME Bags
• Perks – These are mesh bags, which are perfect for produce. They fold up tiny, so you can hold multiple in your purse no problem. I'm so impressed with how durable they are – for as lightweight as they are, they can really hold some heavy stuff.
• Giveaway – One reader will win three ACME mesh bags from ReusableBags.com!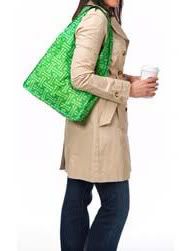 RuMe
• Perks – I love how this micro bag folds up securely and easily, and its medium-sized shape holds things neatly. We use ours to tote books and crayons to and from the car.
• Giveaway – One reader will win a micro RuMe, a 13 ounce Earthlust bottle, and a Wrap-n-Mat from Mama Goes Green – all things I use and love!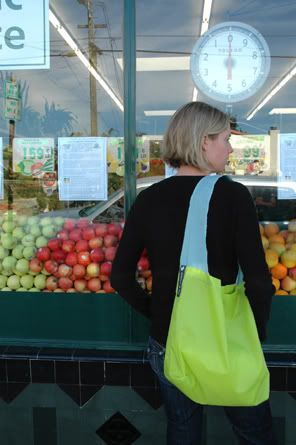 Flip & Tumble
• Perks – These bags scrunch up nicely, and the colors are great, too. The 24-7 bags wads up into a ball, which means you're carrying an instant toy for small children – and I love the felt shoulder pad, because normally bags and purses are always falling off my shoulder.
• Giveaway – One reader will win one 24-7 bag and two Loopt bags!
How to Win:
1. To be one of the six winners, leave a comment on this post and answer this question – What else do you reuse or repurpose around your home?
2. For a second entry, email me at simplemomblog (at) gmail (dot) com with the secret code in the email's subject line (no need to write anything in the email's body, as it won't be read). To find the secret code, make sure you've subscribed to Simple Mom's feed either via RSS or via email, and look in the footer of any post. I promise you – the code is there.
3. For a third entry, blog about this giveaway and make sure I know about it.
This giveaway ends on Saturday, November 22 at midnight CST.
I hope you win!