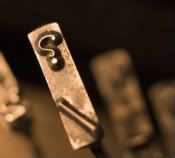 Sure, most of us would agree that it's important to teach our kids to say "please" and "thank you."  And I can't imagine that Simple Mom readers don't kindly leave a tip when their waitress serves well.
But… what about those rules that have been around for several generations, and – well, we're not exactly sure why we do them?  How important is it in this day and age to slap a stamp on an envelope and mail a thank you note for a Christmas present?
Today's question comes from Nick Cernis, writer of the famously funny and useful Todoodlist.  He asks:
"Are good manners and etiquette still relevant in our busy lives today?"
Nick is a writer and web developer from the UK with a penchant for pencils and a 43-a-day Hobnob habit. He lives at Put Things Off and recently launched 44forks, a kind of light-hearted internet finishing school for lost souls with a fear of cutlery.
Readers, I love Nick's blogs, and it's always a highlight when I see something new from him in my reader.  I have a fondness for good blog design, and his both fit the bill.  Plus, he's hilarious.
I look forward to reading all your answers! I have some thoughts on the matter of etiquette and the exact definition of good manners, but… I'll leave that for another time.  Today, you've got the stage.