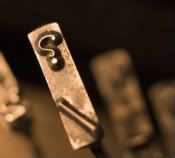 I hesitate a bit posing today's question, mostly because I'll be on a plane all day today, leaving me unable to monitor comments.
But I'm genuinely curious about the why behind the myriad of family philosophies out there. So please share yours in the comments for today's question:
Does Santa come to your home for Christmas? Why or why not? And if he does, how real is he?
I don't want to spark heated debate, especially during the holidays, so please keep a little perspective and stay friendly. Feel free, however, to discuss why you do what you do!