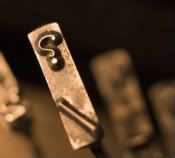 There's two more days of 2008. The long-standing traditions of New Year's Eve include champagne, parties, dancing, games, holding your eyelids open until midnight… and making resolutions.
You can probably guess today's Q&A:
Do you make new year's resolutions? Why or why not? And by golly, why do you think they're so hard to keep?
I actually love New Year's Eve and Day, and I personally love the idea of resolutions. Being the goal-setter and list-maker that I am, though, that's not surprising. Whether I keep the resolutions, however, is another thing altogether.
What about you?