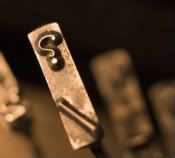 Facebook is such a funny thing.  I love how it keeps me connected with so many people, especially since we live overseas.  And it's wild to see how paths cross – how your college roommate can comment on "your wall" right alongside your brother's brother-in-law's girlfriend.  It's sort-of like a wedding, in that way – your worlds colliding, right in front of you.
So it's a great tool for keeping up with the lives you love, and for you to update others about your family through photos and little text snippets.
But Facebook can also be a time-sucker. With it's bajillion applications, you can easily do a lot of pointless – albiet fun – activities, such as sucker-punching your sister.  And it's a quandrary how to handle those people who want to "friend" you, and for whatever reason, you're not sure you want to.
Susan at Real Simple wrote a little article recently about the oddity that is Facebook, questioning its validity in our lives.  So today's Q&A is this:
Do you use Facebook?  What's your primary motivation?  How much time do you spend on it weekly?  And – how do you handle those requests for friendship, for accepting virtual plants, or anything else you just don't want to do?
I look forward to hearing your thoughts!