I love for everything to have its place – my three-year-old, on the other hand, could care less. And I'm okay with that. I wasn't organized until adulthood, and still manage to swim under clutter every now and then a lot more since the birth of our second. She doesn't have a lot of toys, but the ones she does have tend somehow to get everywhere. And since we've recently switched from nap time to "quiet time," she's got a good chunk of time to herself to get into all sorts of mayhem.
Exhibit A: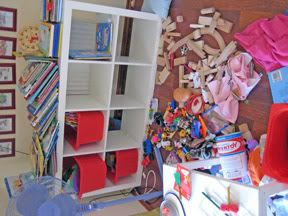 We recently bought shelves and storage buckets at Ikea, which work great. However, when it comes to clean-up time, all the toys are tossed hither and yon into whatever bucket is closest (and you can believe me when I say it's like fingernails down a blackboard for me when that happens – but I keep my mouth shut). I understand that she's too young to sort well, and she can't yet read. So.
Question: How can I label these identical buckets so she can sort-of put her toys away where they belong?
Answer: photos.
I took out a couple toys in each bucket and took a quick snapshot. Here is her pretend food: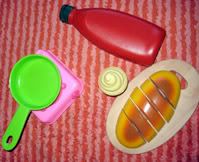 I then printed the photo and taped it to the bucket.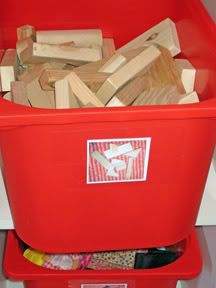 Walla. A really high-tech, fancy label that will hopefully help my preschooler know what goes where.
After:
(Notice how one bucket is already turned upside-down as a makeshift dining table.)
And I'm not so delusional to think she will now put everything exactly the way I would want it. I know there will still be mayhem and some gnashing of teeth come clean-up time. But perhaps this will help a bit, and will inspire this independent, I-wanna-do-it-myself little girl to keep her room a smidge neater.
I'll let you know how that goes.
This is my contribution for both Making Your Home a Haven Monday and Tackle It Tuesday. I'm kinda busy this week.