The importance of music in the lives of kids: take notes
Music education has molded many kids into successful adults, even if their success has come from a vein of society having no relation to music.
Public schools are having to fight to keep music and the arts funded adequately in order for the students to thrive, and I think this is a shame. The point of this post is not to bash the decline of musical instruction.  But I think it's imperative that we encourage our children to absorb music in the many outlets of their lives. The intelligence required to write classical music is obvious, regardless of whether you know what the musical notation "says" – the benefits of early music education is widely documented.
So how do you teach a love of music?
I was blessed with parents who love music, and they are whistling, singing, or enjoying music all the time. If their house is devoid of tunes, then there's no one home.
Don't let your kids escape the influence of music. Yes, you can teach the chord progressions of all types of music in their respective major, minor, and diminished scales. You cannot, however, teach how to feel music.  So as a music-loving mom to small children, I figure if I fill my kids' life with music now, it will remain—and down the road, they can learn how to interpret and feel it all their own.
There's instruction – but what about music improvisation?
Music improvisation is highly regarded, but how do you teach improvisation to your kids? That's like teaching a mother how to… mother.  No matter how many you read, the birth books can't prepare you and your spouse for the 48-days-of-no-sleep-and-I-still-have-to-function feeling.
How did Ella Fitzgerald feel during Blue Skies, or how about George Gershwin while making Rhapsody in Blue?   How do you define the likes of Otis Redding or Paul McCartney?  You can't .
The common thread of all those above is a musical foundation that had been injected into all their hearts.  Instinct and emotion were given the reins musically.
My children are young. I have an opportunity to enhance their musical knowledge with an array of instruments in-house, but for now, I won't force them to read music. I will try (my darndest) to teach them music as long as they enjoy it.   But the minute they're not obviously enjoying it, I will resume my role as the mom that sings while she cooks and cleans.   After all, Sir Paul McCartney doesn't read music, and he's allowed music into his life, eh?
I have heard that the acquisition of a foreign language allows for a more seamless life.   Music is a language, and it's one of the most malleable, expressive, forgiving and universal of all communication. Give your kids the tools to learn this language.

Create a musical environment at home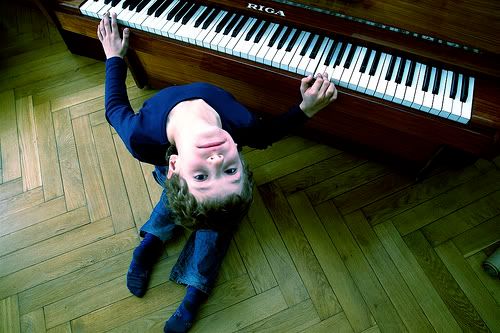 Photo by Rolands Lakis
Regardless of your personal music ability, make the craft accessible to your kids. Look on craigslist, or look up a local music store. Many places offer reasonable rates for instrument rental if you don't want to commit to an outright purchase.  Go to garage sales and see what musical treasures you can find.
If you don't know an instrument, there are plenty of resources to learn while you teach. Google it.  I learned how to play the ukulele from just a few web searches and an eBay purchase.  Sit down with your kids and pick out an instrument, and give them a full range of choices.
Even if you can't carry a tune with a forklift, one of our jobs as parents is to provide opportunities to explore and develop natural gifts – regardless of the subject matter.   If you never swing the hammer, it's impossible to hit the nail on the head.
If you have infants, or children that are a bit too young to take on an instrument, Musical Squash has a great article about an incredible series from Rockabye Baby! Records. They produce instrumental arrangements from a wide genre of popular bands. Your favorite songs, suitable for their nap. Really.
To save you time if you'd like to explore more options, I've compiled a list of many products in the Simple Kids Shop.  Use the Audio/Music category as a quick database for your kids' music.
What role does music play in your family?
zp8497586rq
Get our weekly email called
5 Quick Things,
where we share new stuff from the blog and podcast—that way you'll never miss a thing. Tsh also shares other goodness from around the web... It can be read in under a minute, pinky-swear.
(You'll also get her quick list of her 10 favorite essays and podcast episodes from around here, helping you wade through a decade of content.)