The following is a guest article from Marie at Make and Takes, where she writes about great ideas and crafts for family fun.

Photo by Woof Nanny
I'm excited to be posting over here at Simple Mom. As a mom, I try to make things simple too, while still having fun. Whether it's crafts, recipes, or stories, at Make and Takes we're staying busy this summer.
As a child, The Monster at the End of This Book was my favorite story. It's a classic still today, and I've introduced it to my own kids – they ask to have it read to them over and over. My husband does great voices and he sounds just like Grover.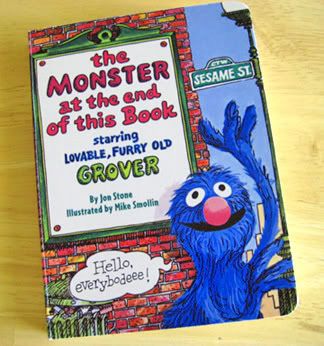 This and all subsequent photos by Marie
In this story, silly Grover is scared of monsters. He doesn't want to read this book because there's supposed to be a monster at the end of it. He will stop at nothing to keep the book's pages from turning. He builds a brick wall, nails up boards, and many other things to keep from getting to the end. There's also a second book involving cute little Elmo called There's Another Monster at the End of This Book. Little Elmo isn't scared and keeps turning the pages! I won't tell you the end, but there's definitely a scare!!
To celebrate this fun book, we pretended to be Grover and talked about other ways to keep the pages closed. My son came up with two fun ways that those pages could stay shut, and he drew pictures of what they would be.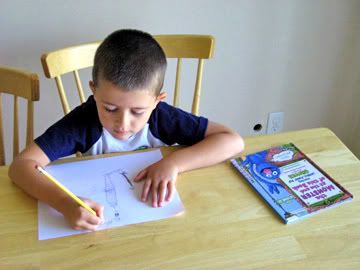 The Cage: My son drew a large cage that was in front of the page that was too large to move. But sneaky Elmo climbed the cage and got over to the other side to turn the page.
Cheese Bricks: Then my son pretended there was a large stack of cheese blocking the way. But Elmo ate right through it. All that was left was crumbs. Elmo is even saying, "YUM". And my son thought up this play on words from the book, "Did you know you are very hungry?"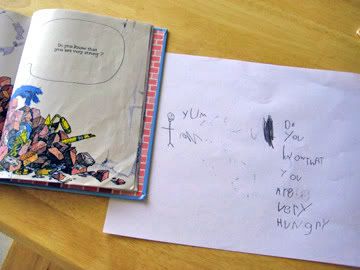 Thanks, Simple Mom, for letting us come and play.

I love so many of Marie's ideas! I appreciate how simple, thoughtful, and deliberate her kids' activities are. She is a stay-at-home mom to three kids and has a degree in early childhood education, and was a kindergarten teacher for four years before using her creative ideas on her own children at home. For more fun with storytime, I recommend subscribing to her feed.