This giveaway is now closed. The winner is Katherine – congratulations!



The next giveaway today is from Angie Warren Designs, and she is giving one Simple Mom reader a set of 50 mommy cards!


Mommy cards are the latest trend in the blogosphere for busy moms to quickly share their contact info – a veritable business card for some of the busiest, hard-working adults out there.
Angie's cards are gorgeously printed front and back, and they all feature a photo (or photos) of your cute kids.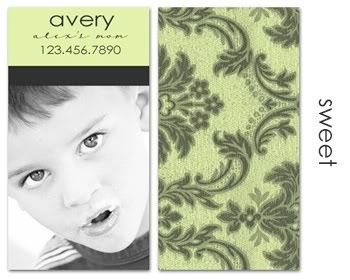 One reader will win a set of 50 mommy cards of their choice from Angie Warren Designs!  The retail value of this prize is $25.  Here's how to win:
1. Leave a comment on this post, answering this question – What's your favorite thing to do with other moms?
2. To get a second entry – and a second entry on all the giveaways this week – subscribe to the Simple Mom feed and email me the movie quote at the bottom of any post in your feed reader or email inbox (there is only one quote for all the giveaways). Send it to simplemomblog (at) gmail (dot) com, and put the quote directly in the subject line. The body of the email won't be read.  And you only need to email me the quote once in order to get a second entry for all the week's giveaways.
3. Finally, to get a third entry, post or tweet about this giveaway – if you use the URL of this post, I'll receive it – no need to email me.
This giveaway will end this Thursday, January 29 at noon EST. I hope you win!