It goes without saying that the holidays make life a bit busier, and I've got a lot going on in real, non-internetted life.  I'm sure you all are busy as well!  And yes, this is my explanation as to why I'm a day late with my link post.
Today's link loves were easy to find – I just looked to the right-hand side of this blog.  Here are some highlights from the Simple Mom recommended resources.
Annie & Olive sells the most adorable little pins, pillows, bracelets, and more.  I also love her prints of everyday life, like this vintage circus top toy, and this one, beautifully titled "Saving The Green One For Last."
Dayspring is a division of Hallmark that sells Christian-themed cards and gifts.  Perfect for this holiday season, most of their Christmas decor is already on sale.  They've got other, non-seasonal gifts as well – wouldn't these baby lamb booties make the cutest baby shower gift?
Fussypants Designs is fabulous jewelry created and sold by my dear friend, Alli.  You'll remember her wares from our jewelry giveaway.  I get compliments every time I wear my heirloom necklace!
Layla Grace cares deeply about design, and sells home decor to suit just about any taste.  They also have great vintage aprons, uber-luxurious lotions and soaps, and children's gear.  I love this Icky Baby Travel Placemat – I also just love that name.
Let's Explore…  I love exploring this site.  Amy Anderson sells all sorts of open-ended play things here, and all the bright colors and well-made items make me want to have playtime myself.  In particular, I love the lowercase blocks – it really does make sense to focus on those letters, since our written language is almost completely in lowercase.  And I think the crayon rocks would make fabulous stocking stuffers!
You all know how much I adore Lisa Leonard.  Her jewelry is good any time of year for just about any woman in your life…  My plan is to collect them all!  Her stuff really is the most versatile jewelry I've ever worn.
List Plan It has over 350 downloadable lists to help you organize your life.  You can get a three-month membership for about $10, and with it, you'll have access to more checklists than you can possibly imagine.  There are lists for time management, travel planning, home management, and even an American Idol checklist!  My favorite is their thorough 10-page home inventory checklist.  If you thrive on list-making and checking things off, then head over to List Plan It – perfect for a Home Mangement Notebook.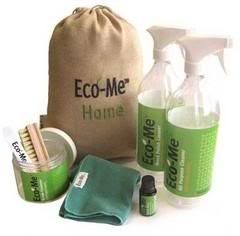 Mama Goes Green sells all sorts of family-friendly items that are good for the earth.  You may remember this shop giving a RuMe bag and other eco products for the reusable bag giveaway.  They also have cute jewelry, BPA-free bottles, and non-toxic cleaners.
Marie-Madeline Studio is a family-owned business selling fabric, patterns, bags, and ready-made clothing and aprons.  I love their pleated cottage apron – feminine, but not over-the-top frou frou.  They also sell their patterns!
I've talked about Shabby Apple before, and I just love their dresses for girls.  But they also have wonderful dresses for women – I think this is just about the perfect little black dress ever.  They also now have maternity dresses, and their opulent dresses have the best names ever.
You may remember Shop Wise Bags from our reusable bag giveaway.  She creates one of a kind oilcloth bags shaped like traditional grocery sacks.  These suckers are durable – we carry ours everywhere!  I love the little buckle and strap that hold them folded tightly when not in use.
And on one final note…  Because a few of you were curious about my stance on Santa Claus after this Q&A post, and because it's really no big secret, I went ahead and wrote how our family handles St. Nick on my personal blog.  Feel free to read up, if you're wondering.
And coincidentally, Santa Claus guest posted on Writer Dad.  Beautiful words, they are.
This next week, Simple Mom will be rather light.  I'll republish some previously published posts so that I can spend time with my family celebrating the season.  Behind the scenes, the blog is gearing up for the Book Club starting in January – I hope you plan on joining with the first book, Your Money or Your Life.
Lastly – if you're on Twitter, then you know I'm adding four new columnists to Simple Mom in 2009.  The deadline to apply ends soon, so if you're interested, here's more info!
Enjoy the rest of the weekend.