This giveaway is now closed.  Congrats to Colleen, Kelley, Jen, and Monica!


Photo by Salvatore Falcone
There are two more big giveaways before Christmas on Simple Mom…  and today is one of them.  (By the way, I've got mixed emotions about all these giveaways – I'm a bit weary just reading my words about them all, but I'm also so psyched to bless you all with some great stuff.  So onward we go.)
What woman doesn't love jewelry?  More specifically, what mom doesn't love jewelry adorned with her family?  Today's giveaway features jewelry that celebrates a mother's love for her children.  And all the businesses, once more, are run by moms.
Four of you will win one of these pieces of jewelry featured today. Read on!
Vintage Pearl

Erin is a mom of four kids, and she hand-stamps lovely silver jewelry from home.  All her pieces are unique and one-of-a-kind, so everything she creates for you is owned only by you.  I love this type of jewelry – it goes with everything.
Vintage Pearl is giving away one of their "You Are My Sunshine" necklaces to one Simple Mom reader.  Wouldn't this make a darling gift to a daughter, mom, or grandma?  Swoon…
Fussypants Designs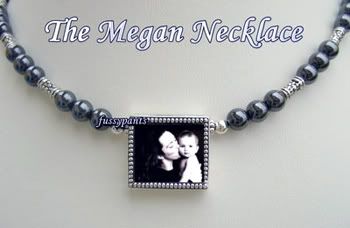 My good friend Allison makes fantastic photo jewelry – I near kissed her when she gave me my tortoise shell necklace.  What she creates is both wearable works of art and family heirlooms in the making.
For one of you, Fussypants Designs is creating the Megan necklace, made with silver and black hemalyke beads.  A silver frame rests in the middle, where she will personalize it with a photo of your choice.
Lisa Leonard Designs
Sigh…  Who doesn't love Lisa Leonard?  I get so many compliments when I wear anything of hers – and I wear it a lot, because it goes with everything.  Lisa's been a devoted Simple Mom reader from early on, and I'm thrilled to promote her work.
Lisa Leonard Designs is giving to one of you her Teeny Tiny Initials necklaces, customized with letters of your choice.  How perfect is this for the mama or grandma in your life?
The Fine Art of Family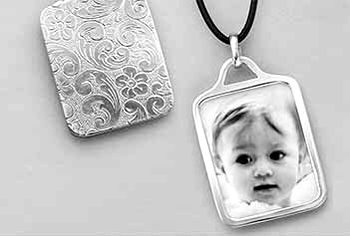 I feel all fancy wearing my necklace from The Fine Art of Family, mostly because I just love the floral pattern engraving on the main side.  The photo is meant to be worn image side down, making it a really great casually elegant piece.  It's created to be passed down as part of your family history.  Monica Rich Kosann is the collection's designer, and her inspiration are her vintage finds at flea markets and antique shops.  Love it.
One of you will win the lovely silver image case with cord.  Dads, I can tell you first-hand that any mom would love to have this for Christmas.  It's beautiful.
I promise you, your day will be made by winning any of these!  These talented women have created some stellar jewelry, and I love promoting work-from-home moms.  Join me in supporting these fine ladies.
How to Win
1. Enter a comment in this post, and answer this question: Do you have a special heirloom in your family's history that gets passed down? Tell me about it.
2. For a second entry, email me at simplemomblog (at) gmail (dot) com with the secret code in the email's subject line (no need to write anything in the email's body, as it won't be read). To find the secret code, make sure you've subscribed to Simple Mom's feed either via RSS or via email, and look in the footer of any post. I promise you – the code is there.
3. For a third entry, blog or Twitter about this giveaway and make sure I know about it.
This giveaway ends this Friday, December 5 at midnight CST. And don't forget also about the kids' supplies giveaway, ending this Wednesday.
I hope you win!