The fine art of making choices (hint: it's usually not good versus evil)
We moved back overseas two weeks ago, and while life was definitely topsy-turvy those first seven days or so, last week resembled much more closely a normal life. So I was tempted to jump back in to blogging full-force, saving the huge lot of guest post submissions for some other time. But I relented, and decided to continue publishing your submissions while I kept my focus on home and family.
Why?
Because the best trumps the good.
Blogging is good – many times it's wonderful, in fact. I love the place Simple Mom has come to be; to me, it's both a safe haven and an encouragement for busy parents and home managers who need a boost. I love all your comments, I love the Book Club forums, and I love the sponsors who believe in the Simple Mom name.
But it will never top my family, nor should it.
My kids were getting over jet lag, and our boxes were mostly unpacked. My husband and I were slowly getting enough sleep, and things were starting to find homes. But life was still a bit hairy around here. I hadn't gotten into a good cooking routine yet, and while the boxes were unpacked, things were still everywhere. It was close enough to finished, but I could predict the future – things would stay halfway done, and my good intentions to fully set up our home upon arrival would remain just that.
So I continued to publish guest posts, and will continue to do so for awhile, until our routine here is more concrete and our home works more the way it should. My family deserves my full attention, as do I. In fact, my blog does, too. My writing will be more clear-headed and succinct. When your writing focuses on productivity, organization, and living a balanced life, it behooves itself that the writer embodies those things.
My Point
Life offers us the opportunity to choose the best over the good all the time. Very few times are those that ask us to decide between a good choice and a downright evil one. Usually, our choices involve stuff like scheduling appointments, making purchases, and managing time. But all choices require decision-making, and it's important to recognize the subtle difference between the good and the best.
The tricky thing is that usually, the best has a lot of variables – it depends on your season in life, your relationships, your health, and your financial situation. What's best for one family might not be best for another. And what's best for you this year might not be best next year.
A few real-life examples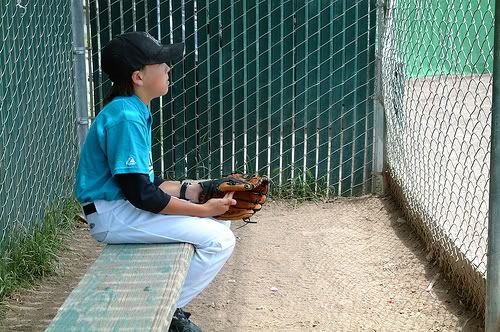 Photo by Ian Ransley
Perhaps this year, your son should take advantage of his Little League opportunities – he was selected to be on an elite team, and he could really use an overall self-esteem boost. It would make life a little busier, but your husband's work travel schedule has lightened, and you don't have many outside commitments at the moment. But your son also wants to pursue basketball, and has begged you to sign him up for the fall – which would probably tip the scale from manageable to overcommitted.
So for you guys, for now, Little League might be the best choice, on the condition that you say no to basketball. Basketball is good, but not the best.
Your in-laws want to take everyone on a big family vacation to Disney World this summer. They've offered to pay for the housing – all you have to pay for is the flight there and your park admission. It's a great opportunity, and it might not happen again for a few years, but the flight alone would cost your family over $1000 – and you don't even want to know the price of admission tickets. You guys are committed to becoming debt-free this year, and this vacation would set you back from this goal for at least six months.
It's a fun idea, and you'd love to do it, but perhaps it's just not best for your family, right now. It could be – but it might not. If the best is becoming debt-free, you'd hate to settle for going to Disney World, if that's merely the good.
You're committed to revamping your family's health, and are wanting to make better food choices. The farmer's market selection costs a bit more than your grocery store fare, but the quality and taste are light-years beyond the produce in your neighborhood store, not to mention the health benefits. It involves waking up earlier on a Saturday morning, driving downtown, and adding a few dollars to your monthly grocery line item, but for you guys, the benefits outweigh the setbacks.
For now, for your family, shopping at your farmer's market is the best.
A Few Good Reminders
1. If what you want turns out not to be the best, remember that it's just not best right now. Maybe in a year, things will be different.  Disney World will still be there.
2. Keep your priorities in check, especially with relationships. If your good friend really wants you to do a favor, but it'll truly be a disservice to your kids if you say yes, then you have your answer.
3. Perhaps the best choice is a completely new one, based on compromises. Maybe your in-laws would be willing to do a big family vacation at a nearby lake house?

Photo by Andre Chinn
Our lives are chock full of good-versus-best decisions all day long. From choosing to read books to your kids over popping in a DVD – or perhaps popping in a DVD over absolutely no dinner on the table, parents are challenged to step up to the plate and make wise decisions. As responsible adults with bank accounts, we're asked regularly to be wise with our finances and make the best fiscal decisions for our families. And as people with a myriad of relationships in our lives, we're regularly required to make choices that benefit those relationships the most – even when it doesn't always look like it.
It's a tricky minefield, sometimes, but the best is always better than the good.
What about you? What does this look like in your life? What was the most recent decision you had to make, when your choices were the good and the best?
Get our weekly email called
5 Quick Things,
where we share new stuff from the blog and podcast—that way you'll never miss a thing. Tsh also shares other goodness from around the web... It can be read in under a minute, pinky-swear.
(You'll also get her quick list of her 10 favorite essays and podcast episodes from around here, helping you wade through a decade of content.)