How to cook up a winning Oscar party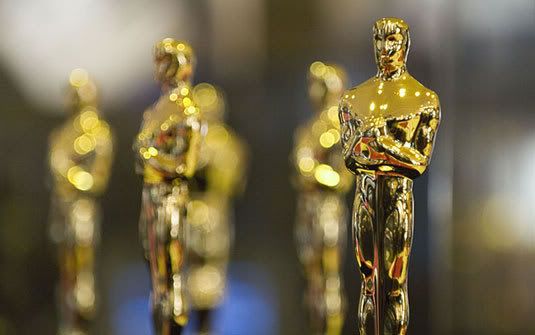 Photo by Nick Plowman.
The Oscars are a great excuse to bring your movie buff friends together, enjoy some simple food, and beat those February blahs.  Perhaps you're toying with the idea of hosting a party to watch the Academy Awards. You've got the TV in place, you're a huge Kate Winslet fan, and the only thing stopping you is planning the menu.
I can help!  Sure, I haven't seen many of the nominated films.  Okay, a pathetic one. I've seen ONE FILM.  But I can still give you some tips to ensure that your food will collect an award of its own, while remaining hassle-free.
Since this red carpet event is centered around the television, it isn't the occasion to serve a multi-course meal in the dining room.  But you can still do more than open a jar of salsa and sling a bag of Tostitos onto the coffee table.  It's going to be a looong night, and you're going to need some sustenance.
Here are some strategies to help you further.
1. Go Antipasto.
If a wine-and-cheese is the easiest party to host, (and who can argue?  One – open wine.  Two – slice bread.  Three – serve cheese.) then an antipasto party is a close second and is heaps more fun.  If you can open a jar and use a knife, you can easily assemble this finger food feast.  Similar to the Spanish tapas concept of many small dishes coming together to create one meal, antipasto is a culinary medley of simple appetizers featuring gorgeous Italian ingredients. Variations are limited only by the imagination, and perhaps the availability of ingredients.
Italians view their antipasto as a "short film" preview to dinner, but you can turn it into a "feature length" winner that's a meal in itself:
• Cured Italian meats and crusty breads take the lead role, with bowls of fat, juicy olives, succulent marinated vegetables and mounds of fresh fruit playing supporting roles.
• An assortment of Italian biscotti (cookies) for dessert rounds out the meal; these can be either purchased or homemade, depending on how ambitious you are.
•    For beverages, Italian red wine is choice. To accommodate your pregnant friends and designated drivers, you can also serve Italian drinks such as Brio, San Pellegrino, and Limonata.  Salute.

Photo by Michael Johnson
2. Plan your menu.
Know ahead of time what you want to serve and how many guests to plan for.  Be sure to factor in how much time you have to prepare, along with your skill set.  If you've never made bread before, now may not be the best time to try breadsticks from scratch.
Keep in mind where you'll be shopping for ingredients as you put your menu together. If you've got a reliable Italian grocer, then there are almost no limits to what you can do.  If not, then be prepared to make some substitutes, such as ham for prosciutto.
For simplicity (and to optimize flavours), everything should be served at room temperature – which also means no pots and pans and no last minute scramble over a hot stove.  Bravo.
Here are some menu ideas:
The Bread Department
Essential to an antipasto spread, these variations on a bread theme serve as platforms for all those gorgeous Italian meats and condiments.  They come in many shapes and sizes.
•  Grissini: A favorite snack around my home, these thin, crunchy breadsticks are way more fun than any cracker.  Stock up – they disappear fast.
•  Bruschetta: These thick slices of Italian-style bread are either grilled or toasted, then brushed with olive oil.  Classically, they are topped with a mixture of fresh tomato, garlic and herbs.
•  Crostini: Meaning 'little toasts', these small rounds of sliced bread are sliced thinner than bruschetta and dried out in the oven until crisp.  A tip: ask your baker to pass the baguettes through the industrial bread slicer before giving them to you. This will save you a lot of time at home and also ensure nice, even rounds of crostini.  For my favorite topping, see the recipe at the bottom.
•  Focaccia: Ever since I found a simple recipe for this flatbread that delivers fantastic results, I have always made my own. Your friends will swoon when you serve warm wedges of focaccia with olive oil and balsamic for dipping—just like fine dining restaurants in the 80's.
•  Pizza: Do I really need to elaborate?
Vegetables
•  Marinated: Artichokes, sun-dried tomatoes, red peppers, and mushrooms.
•  Fresh: Cherry tomatoes, cucumber, and endive.
Condiments & Sauces
Try pesto, black olive tapenade, sun-dried tomato pesto, anchovy paste, gherkins, roasted garlic, and mustard. Don't leave out balsamic vinegar and extra virgin olive oil for dipping the focaccia.
• Olives:  Head for the bulk olives section of your deli for an assortment of black and green, spiced and marinated, which is just as easy as getting canned olives but twice as tasty and loads more fun.
• Italian cured, sliced meats: Mortadella, salami, sopressata – a little goes a long way for these rich and flavorful cold cuts.  Include a few pepperoni sticks for the real carnivores.
• Cheese: Cheese plays a supporting role to the cured meats, but my favorites are buffalo mozzarella, bocconcini, or provolene.  Below is my recipe for marinated bocconcini.
• Asparagus: Steam and serve with a garlic mayo dip, or wrap in prosciutto.  A tip: Stand asparagus spears in a tall glass for an attractive presentation.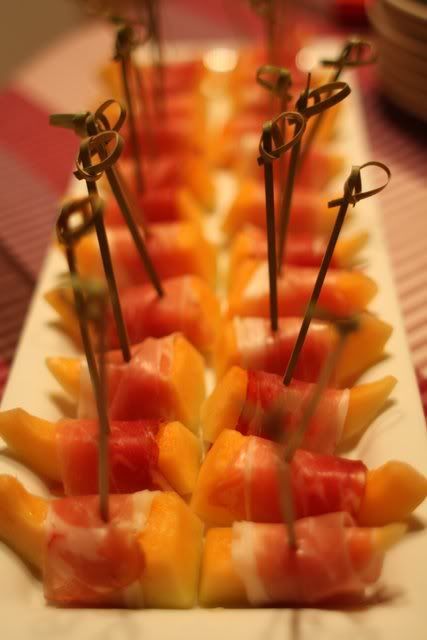 • Fresh fruit: Grapes, figs, melons, and strawberries….  Slice the cantaloupe in two-bite wedges and wrap them in prosciutto. Serve some plain melon for the vegetarians (I like mine with a sprinkling of sea salt).
• Italian cookies: Amaretti, biscotti, anisette – whether homemade or purchased, these finish off the meal on a sweet note, and are ideally paired with an inky espresso. Your guests will appreciate the caffeine-sugar jolt combo before they have to drive home.
3. Share the load by delegating help.
I'll never forget an experience my sister had when she hosted a wine tasting.  She was providing the wine and had asked guests to bring finger food, not specifying anything in particular. Imagine her dismay when seven out of eight couples brought hummus and pita.
To avoid having a fridge full of leftover hummus at the end of the night, assign something specific for each person to contribute. I find people often prefer to be told specifically what to bring, thus eliminating them having to come up with something themselves. It's beneficial for the host, because you get exactly what you need and nothing is left to chance.
A tip: Inviting a few college guys?  Have them bring the wine, and entrust the bruschetta to someone who knows their way around the kitchen.
4. Source before you shop.
Save yourself time, and make a quick call to verify with your butcher or grocer if they have what you need.  How annoying is it to go through the effort of getting the kids dressed (we're talking multiple winter layers here), and spending time and gas to run errands, only to discover your grocer doesn't carry marinated artichokes, or that the melons at the market are hard as moon rock. Start your shopping before you head out the door by having a detailed list, a solid game plan, and completed homework.
5. Prepare in advance as much as you can.
Since most of the food is served room temperature, an antipasto spread lends itself well for advanced preparation, and gives you a chance to freshen up, pour yourself a glass of wine, and stake out a spot on the sofa before guests arrive.
Do Ahead Tips Up to 12 Hours in Advance:
•  Bake crostini, and store it in an airtight container to maintain their crispiness.
•  Slice melon, and store in an airtight container in fridge.
•  Arrange platters of sliced meats and cheeses, wrap well with cling film, and refrigerate until an hour before serving.
•  Prepare small serving bowls with vegetables, olives, and condiments. Cover and refrigerate.
•  Steam asparagus, cool, and wrap in a damp paper towel.  Refrigerate until you're ready to serve.
•  Arrange the cookies on a pretty tray, and wrap them well in cling film to keep them fresh.
6. Party!
To me, this is the ideal way to watch the Academy Awards – plenty of great food, surrounded by friends, all in the comfort of your own home.  If the crowd favorite doesn't win Best Picture, or if the speeches are boring and the outfits forgettable, people will still be talking about the party next year, thanks to your efforts in the kitchen.  Since you'll need something to keep you awake once the food settles, I give you this Oscar Party Pool Sheet to print up for each guest. Have fun betting on the winners.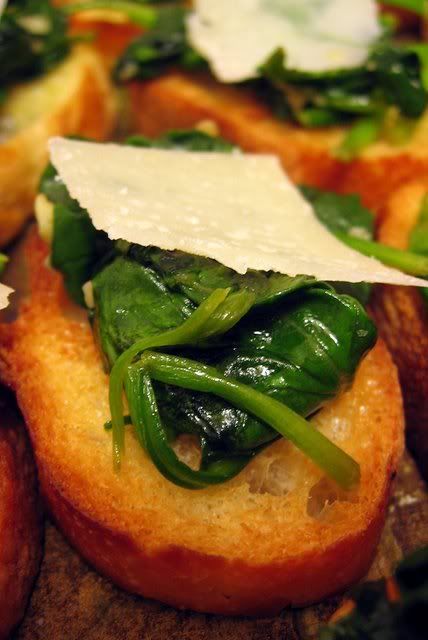 Recipes
Wilted Spinach and Garlic Crostini with Parmesan
Half French baguette, sliced in ½ inch rounds
1/3 cup extra virgin olive oil
Sea salt
2 – 10 oz bags fresh baby spinach
2 teaspoons butter
6 garlic cloves, minced
2 anchovies, minced
½ teaspoon hot pepper flakes
Parmesan, whole, for garnish
Preheat your oven to 425°F.  Brush the baguette slices with some of the olive oil, and place them on a baking sheet. Toast until golden brown, and sprinkle with salt and let cool.
Meanwhile, melt butter in a skillet over medium-high heat and add the spinach (you may have to do it in two batches, depending on the size of your skillet).  Stir often, until the spinach is wilted and begins to release a lot of its juices. Drain off the liquid and turn the spinach onto a paper towel. Blot the spinach dry.
Heat the remaining oil in a skillet. Cook garlic, anchovies and hot pepper flakes for about two minutes or until golden.  Add spinach, and toss it to coat with oil and garlic sauce. Cook gently until it's well-coated and warm.  Season to taste with salt.
Divide the spinach among toasted baguette crostini, and top it off with a shaving of parmesan.  Serve warm.
__


Marinated Cherry Tomatoes and Bocconcini
1 pint cherry tomatoes, washed
1 500ml tub of mini bocconcini
4 garlic cloves, peeled
8 or so whole black peppercorns
6 sprigs fresh herbs such as rosemary, oregano, or thyme
½ cup red wine vinegar (balsamic can be substituted)
2 cups extra virgin olive oil
In a clean pint jar, combine the cherry tomatoes, 2 garlic cloves, 4 peppercorns, and a few springs of fresh herbs.  Repeat this in another jar, replacing the tomatoes with bocconcini.
Combine vinegar and olive oil in a small sauce pan and heat gently. Remove from heat, and pour over the tomatoes and bocconcini, dividing the mixture evenly between the two jars.  Cool to room temperature. Cover jars with lids, and swirl mixture gently to combine. Marinate overnight in the refrigerator.
Return to room temperature before serving, and serve with plenty of sliced crusty bread and sea salt.
Does the thought of throwing a party leave your knees weak? What are some strategies that you find helpful?
Get our weekly email called
5 Quick Things,
where we share new stuff from the blog and podcast—that way you'll never miss a thing. Tsh also shares other goodness from around the web... It can be read in under a minute, pinky-swear.
(You'll also get her quick list of her 10 favorite essays and podcast episodes from around here, helping you wade through a decade of content.)