My book writing's halfway point is September 1, which means I have a LOT of scribbling to do so I can get the manuscript in to my editor by deadline. So I'm going to be reposting some "classic" Simple Mom posts for the next few weeks.
First up is a series that ran last August, called How to be Disorganized and Unproductive at Home. I wrote about six keys, and this week, I'll republish five of them. The sixth key is found here — since we recently discussed this topic of taking care of ourselves here and here, I didn't think it necessary to review these ideas again.
So here's the fifth key. Enjoy!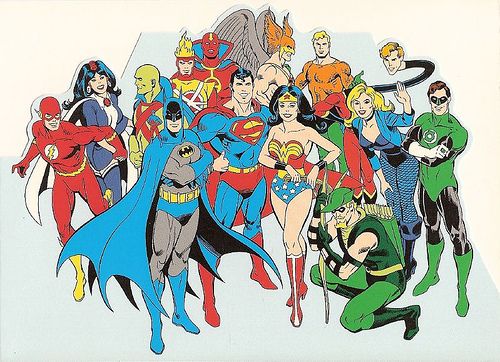 Photo by Corey Bond
Are you Wonder Woman? Probably not. But you might be living like you were given superpowers, and you go to bed frustrated that those powers didn't kick in when you needed them.
This is a pretty common problem, so that's why I've made overcommiting the fifth key to being disorganized and unproductive.
What are you in charge of? What's on your Daily Docket? In your family, is the definition of "home manager" the house cleaner, cook, chauffer, teacher, hostess, errand runner, entertainer, diaper changer, and banker – all without any help?
Those things are good things, and most of them need to be done. But perhaps someone else can do some of those things. And perhaps some of those things don't need to be done at all.
Evaluate Your To-Do List
Get out your Home Management Notebook, or even just a scrap of paper, and quickly jot down everything you do in a normal day. Then think about your week, and add those weekly commitments you have as well (such as driving Billy to baseball practice on Tuesdays).
Part of my list looks like this:
Make breakfast, lunch, and dinner for the family
Menu plan (either monthly or twice monthly)
Balance the checkbook
Create the monthly budget (once a month, obviously)
Grocery shop
Study and learn the local language here
Laundry
Dishes after each meal
Clean the bathrooms
Help my preschooler do her chores
Keep up with correspondence – faraway family and friends
Teach and create with my preschooler
Nurse and feed my baby
And this is just scratching the surface — there's about 20 more things. Does this list look a bit like yours?
Delegate
I'd argue that all of those things are valuable, and that they need to be done. If you're Superwoman, you can do all these things by yourself, on your own strength, without any help. However, if you're not Superwoman, like me, then you might need to delegate.
Delegating is a common business practice, so our homes shouldn't be too different. Let your kids learn some of these tasks. Ask your husband to possibly take over some of these responsibilities. Consider outside help, such as close relatives, friends, or your church fellowship. And finally, maybe some of these things shouldn't be done at all.
Go through that list you made, and make some notes about how each responsibility could be done better, so that you don't have so much on your plate.
Here's some highlights of mine (this is from the list above):
• Make breakfast, lunch, and dinner for the family
My hubby makes dinner on Wednesdays, and sometimes more if my week is busy. He's also in charge of breakfast several times a week (he works from home, so we have this luxury, and I don't take this for granted!).
• Menu plan
I still do this, but I set aside a specific evening once or twice a month to decide this. It doesn't take long once you have a system that works.
• Balance the checkbook
I still do this, but I've asked my husband to do some specific things with receipts that make this a lot easier – I'll share more of this soon.
• Dishes after each meal
We've learned if we do this together as a family, it's much quicker, it's more fun because we talk to each other, and in general, it's just not as painful. My daughter brings her dishes to the kitchen, puts away the silverware, and helps do basic pick up. My husband and I do the dishes together. And we use that time to talk. It takes me much less time.
• Keep up with correspondence
I ask my preschooler to "watch" the baby – and by watch, I mean entertain him while they sit next to me. They're both fascinated with each other, so when I give her the important job of helping me with her little brother, I'm able to get an email or two in. It's not much, but it's something. I've also decided how email works best for me, and it's still a work in progress. But it takes much less time than it used to.
• Teach and create with my preschooler
I still do this a few times weekly, but I don't feel the pressure to be her entertainer all day, every day. Young kids do well with creative free time, and as long as I'm filling her cups a little every day, I find she's much more adept at playing by herself.
• Nursing and feeding my baby
Nursing is still in my domain, obviously. But my husband is happy to feed the baby his pureed and finger foods at least once a day.

Photo by Koka Sexton
What I'm writing about today is different than how you spend time on the things you do. This is simply questioning the things you have been doing.
If you mow the lawn, consider if it's worth it to pay the neighbor boy to do it. It costs money, but it might be worth your sanity and your schedule.
Are your kids old enough to do their own laundry? Have them start.
Can your husband make dinner or breakfast once a week? Ask if he'd be up for the task.
If your definition of being the home manager is doing all the important tasks that go into a well-run household by yourself, there's a chance you're overcommitted. And when you have a ton on your plate to do solo, your home is probably more disorganized and unproductive.
Are you doing too much? Is there anything that can give? If not, can your responsibilities be done by your kids, your husband, a friend?