Today's Q&A Tuesday comes from the writer of one of my favorite blogs, Leo Babauta of Zen Habits. His blog is one of the most successful and fastest-growing in the blogosphere, with over 75,000 subscribers.  He's a dad to six (six!) kids, and in the past few years, he has managed to notch quite a few accomplishments in his belt – lose weight, quit smoking, become debt-free, go vegetarian (and then vegan), run a marathon, write a book, and become a full-time blogger.  I've learned so much from him, and he continues to be one of my daily reads.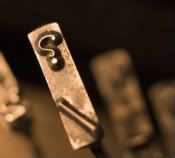 Today, Leo asks:
How do you make room in your life for quality time with your kids?
Tsh's thoughts:
Great question, Leo.  I don't think there's a difference between quality time and quantity time with your children, most especially when they're younger.  Having quantity time is just as important than quality time, in my opinion.  Needless to say, as a stay-at-home mom, it's not too difficult to get the quantity time in.
But making sure we have some quality time can be difficult.  One thing that's helped me is to set more boundaries around my writing and graphic design schedule, so that when I am home, I'm "all there." It's a luxury I can't always allot, but right now, I'm writing this away from home while my hubby is home with the kids.  That helps, especially when little kids don't understand that Mommy can't always play, even though they can see her.
Turning off the TV helps. Games are big hits in our family, as are dance parties in the living room.  We also like crafting together – just being inventive with the stuff around our house and seeing what we create.  My daughter loves to help cook, so we let her drag her stepstool over and work alongside us.  Basically, we make everyday life a participatory, family-oriented event.  We also have a lot of conversations, and we include our preschooler without talking down to her.  Sure, she doesn't understand everything, but we show her the same respect we want her to show us – we do our best to intently listen to her and engage her in her thoughts.
Now it's your turn. How do you make room for quality time with your kids?