Photo by Debbie Hill
I love how sewing has made such a comeback.  It's one of the few traditional domestic skills that I've managed to learn, and I truly enjoy it.  I wish I had more time to devote to the craft.
This Christmas, I have a number of sewing projects on my docket, which made it difficult for me to decide which one to publish here for the first week of Holidays By Hand.  But since I didn't want to reveal any of the presents I have up my sleeve, I thought I'd show you my work in progress – my Jesse Tree ornaments.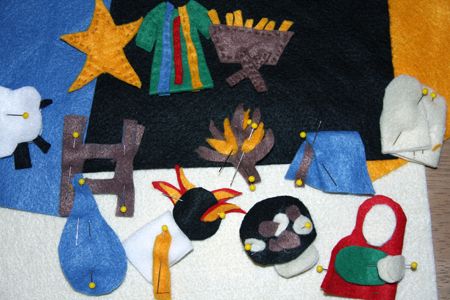 I decided after all to go with felt.  And since I purposely want the handmade look, I'm in the process of hand-sewing all the ornaments, which honestly doesn't take much time, since they're so small and simple.
If I ultimately publish my Jesse Tree devotional, I'll display more of my finished project with these little guys – so far, I'm happy with the results.  I've finished stitching the star, Joseph's coat of many colors, and the manger (so no, it's not a basket of fries on a stand).  The rest are pinned together, waiting for their thread.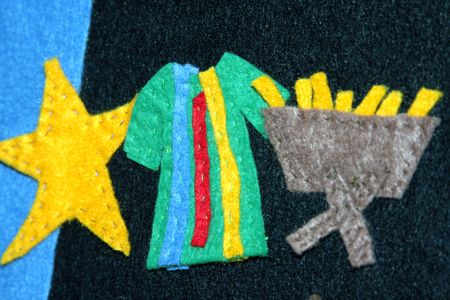 Many of you have published some great sewing projects for the season!  Here are this week's submissions.
Holidays By Hand – Sewing

• Gidget shows us the art-on-the-go bag she made for her nephew.  It's inspired by one of my current favorite books.
• Jodi reminds us that the beauty of a handmade Christmas is often its simplicity – her sweetly embellished seasonal dishtowels are so charming.
• I love this portable felt race track idea from Debbie!  It's such a great idea for waiting rooms and other times when you need to keep little ones occupied.
• Kate made a book bag for her sister-in-law for Christmas, and it's darling.  I love her choice in fabric.
• Some little girl is going to be thrilled this Christmas because her grandmother, Karen, has made her a matching dress for her and her Cabbage Patch.
• Andrea has not only made adorable skirts for her little girls, she has provided us with tutorials on how to make three different types!  This is definitely a post to bookmark.
• Rachel has made a delightfully simple drawstring bag, and shows us how to apply a monogram.
• Jen has only been sewing for a few months, but she has transformed some skirts into aprons.  I love this idea – way to repurpose your clothing, Jen!
• I definitely want to do some version of this – Alana has made holiday gift bags (eight, in fact) out of one yard of fabric.  Creative and frugal.
• Kelly also made some gift bags – I love her choice in fabric on the ones she's photographed.
• Nicole's idea is so creatively simple – she has made fabric beaded necklaces.  These would make great gifts for girls.
• Chez Ouiz shows us her family's Jesse Tree ornaments.  I'm inspired – and I love that Jonah.
• Darcy has also repurposed her clothing – this time, she's transformed an old sweater into a handbag.  Love it.  Best of all, she provides a step-by-step visual tutorial.
• Breezy Tulip has sewn some adorable handmade dolls for the younger girls in her life.  She, too, shows us how she did it.
• Nicki crafted an advent, countdown to Christmas calendar – simple, creative, and effective.
• Betsy made her niece an upcoming Christmas gift – zebra ear barrettes.  How cute is that idea?
• Monica created a desk sewing kit out of an Altoids tin!  That would make a great stocking stuffer.
• Finally, Jessica sewed some photo tote bags, and she displays a few other handmade gifts along the way.
For more sewing inspiration, I love the blogs Sew, Mama, Sew!, The Purl Bee, Soule Mama, and HELLO My Name is Heather, just to name a few.
If you have a post about one of your sewing projects for the holidays, be it a gift, a full-scale advent calendar, or a simple ornament crafted by you, we'd love to see it.  Share the link in the comments below! Happy crafting, and here's to a handmade, simpler holiday season.