This giveaway is now closed. The winner is Jill – congratulations!



Eco-friendly water bottles are everywhere these days, which is great with all the BPA news in recent years.  BioGreen Bottles are biodegradable sports bottles, which means they will break down into carbon dioxide, water and biomass within a reasonable amount of time in the natural environment.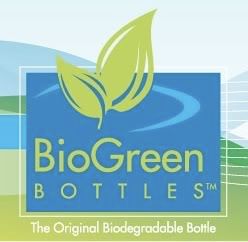 Unlike corn based plastic, BioGreen Bottles are recyclable and are not affected by heat or light. They degrade into biogas and a biomass that actually adds nutrients to the soil.  They're some of the most environmentally responsible plastic bottles on the market.


So, in a nutshell, these are bottles that actually help the environment in several ways – they are made from recycled materials, they completely break down into beneficial compounds in a short amount of time, and they are also 100% recyclable if they do wind up at a recycling station.  And they're BPA, DEHA, and DEHP-free.
One Simple Mom reader will win a family pack of water bottles for the whole family!
Here's How To Win:
1. Leave a comment on this post, answering this question – What do you think is the biggest environmental concern these days?
2. To get a second entry – and a second entry on all the giveaways this week – subscribe to the Simple Mom feed and email me the movie quote at the bottom of any post in your feed reader or email inbox (there is only one quote for all the giveaways). Send it to simplemomblog (at) gmail (dot) com, and put the quote directly in the subject line. The body of the email won't be read.  And you only need to email me the quote once in order to get a second entry for all the week's giveaways.
3. Finally, to get a third entry, post or tweet about this giveaway – if you use the URL of this post, I'll receive it – no need to email me.
This giveaway will end this Monday, February 2 at noon EST. I hope you win!