This giveaway is now closed. Congratulations to Laine, the winner of the gift basket!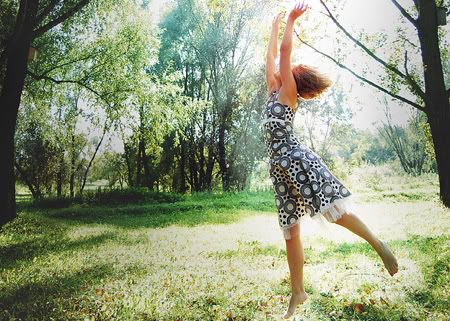 Photo by Paulin'a
Today's giveaway is the final gift basket before Christmas.  And it's all about taking care of yourself – great timing, since you're probably a little wiped out from the holiday season.  All of these products help enhance the little things in your life – and I love them all.  One reader will win all of these products.
1.  Skin MD Natural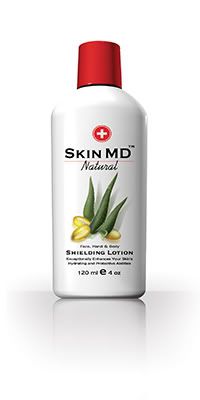 Skin MD Natural is a shielding lotion with SPF 15 sunscreen, and I love it.  To be honest, the first few days of using it, it felt like your basic lotion – good, but nothing amazing.  But around day three, I noticed my skin was feeling softer and tighter.  And it looked a bit clearer and brighter – I couldn't put my finger on it, but I  looked healthier and more vibrant overall.
I love that a little bit goes a long way – you don't need much to cover your entire face, and it's very lightweight.  It's actually good for the whole body. With the dry winter weather, I've used it on my hands and elbows, and they stay moist most of the day.  I'm now completely hooked on my Skin MD lotion.
At $25 a bottle, it's not cheap.  But it really does work well, and because a little goes a long way, it's not too unreasonably priced.  It actually bonds with your skin's outer skin cells to form the shield, which keeps your natural oils in, and keeps the harsh environmental chemicals out.
The winner will receive two bottles of Skin MD Natural with SPF 15 lotion!
2.  Naturally Handmade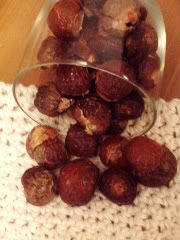 Naturally Handmade is a shop owned by Angela, a stay-at-home mom of two little girls.  Her oldest has a myriad of skin issues and allergies, so Angela has spent a lot of hours researching the best products for her daughter's skin.  Her favorite product was Soap Nuts – in fact, she loves it so much, she now sells it in her store.
To wash a load of laundry, you simply put four Soap Nuts in their muslin bag, and toss it in with the load – any washer can handle Soap Nuts, including high-efficiency and front-loading washers.  What's more, these four Soap Nuts can be used for four to five loads of laundry!
Soap Nuts are low-sudsing, fragrance-free, and perfect for sensitive skin. They are natural, hypo-allergenic, and chemical-free.
The winner will receive 100 grams of Soap Nuts, good for about 40 loads of laundry!
3.  Heather Bailey
Heather Bailey is a designer and mom of two kids, and loves to create.  Her blog and online store are pure eye candy, and everything she creates and photographs are inspiration.  I can browse her stuff for hours, especially her fabric.  Beautiful.
She is the inventor of Trash Ties, which are – well, hair thingies.  They work like barrettes, bobby pins, and hair elastics to create an infinite amount of styles. I have shortish hair, so I was pleasantly surprised that even I can use them to do all sorts of things.  And best of all, they stay – they really don't move at all.
They're really soft, washable, and durable, and they come in all sorts of colors and sizes.  And they're based on the concept of the twisty tie, hence the name.
The winner will receive a set of Trash Ties!
4.  Organically Happy
Organically Happy is a boutique selling eco-friendly beauty products that help you adopt an organic, chemical-free lifestyle without compromising quality.  They sell products from all over the world that are good for you and the planet, including products made from pure, natural sources, along with fair trade accessories. There are no harmful chemicals in anything they sell.
One hot item is their Anti-Aging Day Facial Elixir from Eden's Kiss.  It's made for normal to dry skin, and it contains natural ingredients like extra virgin olive oil, rose oil, German chamomile oil, and vitamin E.  This elixir helps restore skin cells, heal inflamed and irritated skin issues, and reduce the stress your skin faces.
The winner will receive a bottle of Eden's Kiss Anti-Aging Day Facial Elixir!
5.  Tracey Mallett
I used Tracey Mallett's prenatal yoga and pilates DVD when I was pregnant with my second, and I loved it.  It was a nice balance of relaxation, stretching, and a low-key workout, especially good in the later end of my pregnancy.
Her recent project is called "Sexy in 6" – specifically geared towards moms.  As a mother of two (who gained 55 pounds during her pregnancies), Tracey Mallett knows how hard it can be to find the time and energy to work out and eat right.  So her new workouts are only SIX MINUTES EACH. They're created so that you can do six minutes here, six minutes there, whenever you have a chance.  Does this sound like a mother's lifestyle, or what?
I love these workouts.  My daughter does them with me, because six minutes is about her concentration span, and because they're so short, I can grab a little workout here and there.  My biggest block to working out is finding the time, so with Sexy in 6, I no longer have an excuse.  These exercises are a combination of Pilates, yoga, cardio, and strength training.
Tracey also has a pretty vibrant online community and a blog, both good for moral support and accountability.  Believe me, I'm so excited about her new workouts.
The winner will receive three Tracey Mallett DVDs – two Six Minute Quick Blast DVDs, and her 3-in-1 Prengancy System DVD!
How to Win
1. Enter a comment in this post, and answer this question: What's one of your tried and tested beauty secrets?

2. For a second entry, email me at simplemomblog (at) gmail (dot) com with the secret code in the email's subject line (no need to write anything in the email's body, as it won't be read). To find the secret code, make sure you've subscribed to Simple Mom's feed either via RSS or via email, and look in the footer of any post. I promise you – the code is there.
3. For a third entry, blog or Twitter about this giveaway and make sure I know about it.
This giveaway will end this Saturday, December 20 at midnight CST.  I hope you win!