Photo by Crystal
This giveaway is now closed. Check back soon for the winner!
Fall is in the air – can you feel it? Yeah, neither can I. But I'm elated that it's around the corner, because hands-down, it's my absolute favorite season. I love the smells, the sounds, the sights… I eagerly await the first drop in temperature, hopefully not too long from now. I can't wait!
But one thing that's definitely around the corner is my birthday. This, combined with the upcoming arrival of the fall season, has inspired me to have another giveaway here. You all are the best readers in the blogosphere, so I thought it would be fun to give one of YOU a birthday present on my behalf.
The cool thing about this giveaway… it's actually seven presents that one of you will win. It's a veritable smorgasbord of prizes, and I can't wait to find out which one of you will be blessed with all of it.
I have a soft spot for small businesses, so I'm thrilled that each of these prizes come from shops run by an individual, a couple, or a family. This gift basket has prizes that represent each of the topics discussed here on Simple Mom – so the one winner will receive all of these things:
1. Green and Frugal Living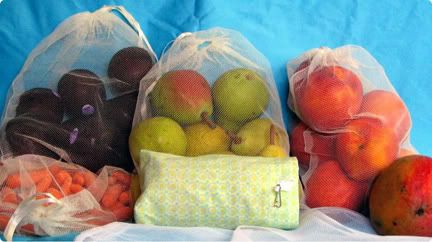 This is a set of six reusable produce bags. They are weightless nylon bags with a drawing closure that come in their own pouch for easy storage. Just clip the storage bag to your purse, and you're good to go! AMK Designs makes and sells eco-friendly, affordable produce bags, helping us cut down the use of plastic bags, which hurts both the environment and the clutter-free ambience in our homes.
2. Making Your Home a Haven

Bliss Candles is adding to the gift basket a premium 10-ounce soy candle in your choice of Harvest, Pumpkin Souffle, or Cinnamon Buns. Fall scents are my absolute favorite, so these each sound heavenly. Best of all, Bliss Candles exclusively makes soybean candles – there's not an inch of wax to be found. They burn cleaner and smell stronger than traditional candles, and they're better for the environment.
3. Cooking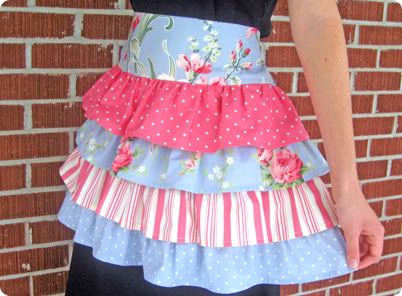 Marie-Madeline Studio is generously giving away one of their gorgeous hand-stitched aprons. The Frilly Fandango apron is so delightfully feminine without being cutesy – your mood would brighten just tying it on! This shop is run by four sisters, and I love browsing their goods – everything is made with such lovely fabric. Aprons are making a comeback, and I think that's wonderful – they're great uniforms for home managers.
4. Productivity & Organization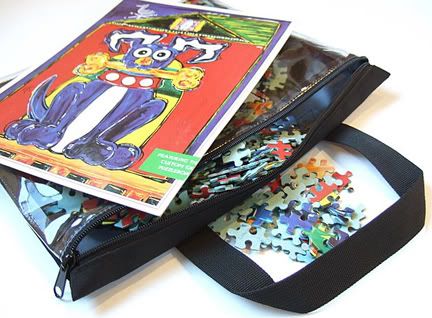 The next prize is a set of Organizing Bags from the Lazy Organizer. I've had my eyes on these bags for about a year now, and to me, they scream "clutter-free, organized, and productive!" I love them. They're see-through, sturdy, and easy to use with a simple zipper. The bags come in all sizes, for a variety of organizing needs – puzzle pieces, art supplies, receipts, even picnic supplies.
5. Taking Care of Yourself


You know I'm a believer in the importance of a mama taking care of her own needs, and not just her family's. For many women, that means getting time outside the house and having friendships with other moms. Busy Nest is giving away a set of customized calling cards, a brilliant productivity tool for moms. Similar to business cards, calling cards provide all your contact info for other moms at the park with hands full of kid stuff. The back side of these cards provide a place to scribble down the details of your next mommy meet-up.
6. Kids and Parenting

My daughter doesn't know it yet, but she is getting this next giveaway prize for Christmas. Plum Pear Apple is adding to the gift basket a personalized superhero cape for your pint-sized wonderkid! I love the simplicity behind these well-made capes, and that they're not embellished with TV characters or trendy themes. The capes come in all sorts of colors and patterns, and you can choose your child's emblem and initial. These capes are a genius toy.
7. Money Management


Finally, the winner of this giveaway will receive a lifetime subscription to Pear Budget, my budeting tool of choice. You may remember Pear Budget from a giveaway a few months ago, and it went so well, I wanted to bless another reader with a chance to win this. You'll get lifetime access to this beautifully simple budgeting tool, which is so helpful when you're in charge of the family finances. I wholeheartedly believe in the power of zero-based budgets and an envelope system, and Pear Budget allows our family to do both as simply as possible. This prize is a gem.
The Whole Kit and Kaboodle
This gift basket is valued at over $200 – at the very least, seeing as the Pear Budget subscription is for life! Please take time to visit all these generous shops, and peruse their handmade quality wares.
How to Win
To enter the contest, all you have to do is leave a comment on this post. In your comment, tell me – what is your most favorite thing about the fall season?
To enter a second time, subscribe to Simple Mom and email me the secret code at simplemomblog [at] gmail [dot] com (not the contact form above, like we've done in previous contests). All you have to do is mention the code in the email's subject line – no need to write anything in the email's body. You'll see the code in the footer of any post, whether you subscribe via email or through an RSS reader. For more information about any of this, please read a recent post I wrote called Subscribing to Blogs 101.
Update: The code is there, and most of you are now sending it in. Please read the link above if you're not sure what I'm talking about. The code will always be a normal word in English. Heck, here's another hint – it's below the phrase "print free coupons anytime." Hope you find it!
To get a third entry, mention this giveaway on your blog, and make sure I get word of it!
This giveaway will close on Monday, August 25, midnight CST. I'll choose the winner using a random number generator, and I'll post the winner's name the next day.
I hope you win!