All photos are by Amanda Soule
This giveaway is now closed.
If you have the popular book The Creative Family
, or if you read the uber-popular blog Soule Mama, then you've heard of Amanda Soule. She's a mama to four little ones, crafting, homeschooling, and living life up in Maine.  And her second book, Handmade Home: Simple Ways to Repurpose Old Materials into New Family Treasures
, debuts in bookstores everywhere August 11.
I've been privileged to devour an early copy of the book, and I absolutely adore it. My daughter and I spent a recent cozy Saturday morning together, flipping through the book, marking which ideas we were going to try first, and feeling the stress leave with every turned page.
Amanda's books emanate peace and a joy for life, where she shares her passion for living a creative life with all family members. She's a real mama, but she takes the time for the little things in life, the things many parents miss because they're too busy racing out the door.
Reading Handmade Home inspired me to pull out my sewing machine and get crafting again, and it encouraged me to try those crafts I haven't yet made the time to learn. It's been relaxing and rewarding to just make something, a reminder what a cathartic release it is for me to create.
I got a chance to chat with Amanda recently, and I asked her a few questions about her latest release.
Tsh: Congratulations on the release of your next book! I absolutely adore your first book, The Creative Family, so can you tell readers what this next book is about? How is it different from your first one?
Amanda: Thank you! And thanks for hosting this interview Tsh!
Handmade Home differs from The Creative Family in that it's more of a craft book (it will be found in the 'craft' section of bookstores) than the first (found in the 'parenting' section). It's a little bit more of a practical, hands-on guide to 'making things' for your home – with or for children, and inspired by family home life.
Tsh: I know many mamas feel like they don't have time to create or repurpose things; that it's quicker and easier to just buy something at the store instead. What would you say to those mamas?
Amanda: Buying things at a store is certainly quicker and easier than creating something ourselves, but not always better or more fun!
The beautiful thing about the position so many of us are in — this day and age — is that we have so many choices about how we choose to spend our time, energy and resources. Making things by hand does take a bit more time, surely, but if creating is something that brings you joy, it can add so many other things to our lives besides just the items' given 'purpose.' Making things by hand nurtures ourselves, connects our families, and conserves both financial and environmental resources.
I also find that including so much handmade in our family life helps us to lead simpler, more mindful days together. When we make something versus buying it, we're aware of how much time and energy went into its production, which makes us more mindful of the purchases we DO make. So it does slow us down…but in really wonderful ways, I believe.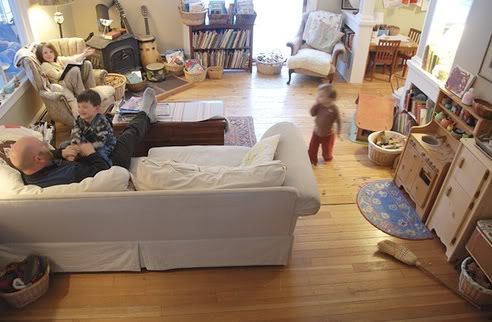 Tsh: What's one word you would use to describe the atmosphere in your home?
Amanda: Cozy!
There are lots of natural textiles and fibers to be found in our toys, furniture and tools. Wood, cotton, wool. Lots of 'soft' places to be found for reading, knitting, crafting, drawing, creating, and snuggling. I have this silly goal of having a quilt within arms reach from any spot in the house! We're also blessed with lots of natural sunlight and the smell of bread baking almost non-stop. In the winter, the woodstove is always keeping things extra warm.
We're quite home-based as a family – we homeschool, and Steve and I both do most of our work out of the house now, so the coziness translates into the people too. In a fairly small space, there are six people living and working and playing together. Sometimes it does indeed feel cramped and crowded, but in those moments especially, we really try to remember "cozy!"
Tsh: I know you get asked all the time, "How do you do it all?", and your answer to them is, "I don't do it all." What don't you do? What are some things you wish you knew how to do, but haven't yet learned?
Amanda: Oh, there are SO many more crafty things I want to try! I really want to learn how to spin. I would love to work with clay (I did once upon a time and love, love, loved it). And so many more things! I know the time will come for those in later years, and as my family grows. Right now, what we're doing as a family, and what I'm doing in my own creative time – it feels just right.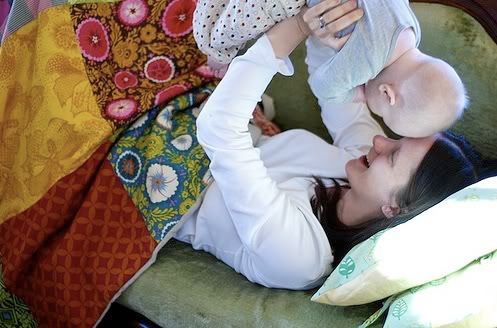 Tsh: I hear you're writing your next book. Any clues on what this one's about?
Amanda: Yes! I've actually be working on the third for a little while now. AND…I am very happy to tell you that this one includes the writing of my very favorite Papa writer! Steve (a.k.a. SoulePapa) and I have been having lots of fun working together on this book project, and I'm so thrilled at the direction it's heading in with his involvement. We've still got lots of work left to do – it's scheduled for release in 2011.
Giveaway Time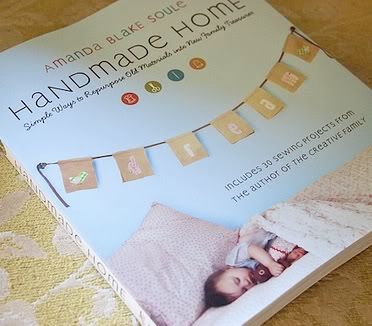 Alright, Simple Mom readers, to celebrate the release of Handmade Home
on August 11, Amanda is giving two of you a copy of the book! It deserves a permanent place in your family library, because you'll go to it again and again when you're itching to create with your family. If you enjoyed The Creative Family, you'll love Handmade Home.
To enter, leave a comment on this post, answering this question: What is your favorite method of crafting?
This giveaway is open until this Friday, August 7 at 11:59 p.m. EST. I'll announce the winners soon after.
I hope you win! And thanks, Amanda, both for writing such an inspiring book, and for your generosity to Simple Mom readers.
And if you want another chance to win this fabulous book, head to the giveaway at our daughter blog, Simple Kids!