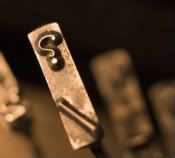 Today's Q&A Tuesday comes from my dear friend Allison of Mrs. Fussypants' Guide to Life.  She's also the founder and Editor-in-Chief of Blissfully Domestic, which means she's my boss when I wear my Digital Bliss Editor hat.  Most impressively, she's a mom to five (five!) boys.  She is powered by grace and coffee. She needs a housekeeper and a nap. Neither of which is likely.
Allison asks:
What are your three favorite bands or musicians?
Tsh's thoughts:
This is hard for me to answer, since I listen to a wide variety of music for different moods and at different times (see my playlist at Last.fm to see what I mean).  But if we're going for all-around favorites, mine would have to be U2, Coldplay, and Sufjan Stevens.  I could listen to any of them all day long and not grow tired.
Now it's your turn.  Who do you love?