Hi friends! I'm super excited to be here chatting with y'all on Simple Mom.  Especially about something so near and dear to my heart—finding cool, eco-friendly/BPA free alternatives to those bright, plastic dishes that our kiddos (and we) love so much.
Plastic ain't so fantastic
As you probably know plastic has been getting a bit of a bad rap over the past few years. Even those darling dishes made of Melamine are posing a problem. As Time Magazine reported, the problem with Melamine – even though that type of plastic has been around for more than 100 years, it easily scratches and stains. Like most BPA plastic, the scratches leach the chemical and there is little known information on the safety of Melamine.
The FDA is investigating its safety but they're still okay with Melamine right now. However, who knows how they will feel about it in a few years. If you can't break up with your sweet, separated melamine dishes, that's OK too—just replace them yearly to avoid heavy scratching and think twice about putting them in the microwave and dishwasher.  But, hey, you might as well invest in some pieces that will allow you to rest easy and make your kiddos smile too.
1. The appeal of stainless steel
Stainless steel is a great option because it can go straight into the dishwasher with no muss or fuss and is a great alternative for the toddler set that can't be trusted not to knock their dishes off the table.
I love this set from Green Heart Shop.  So darling!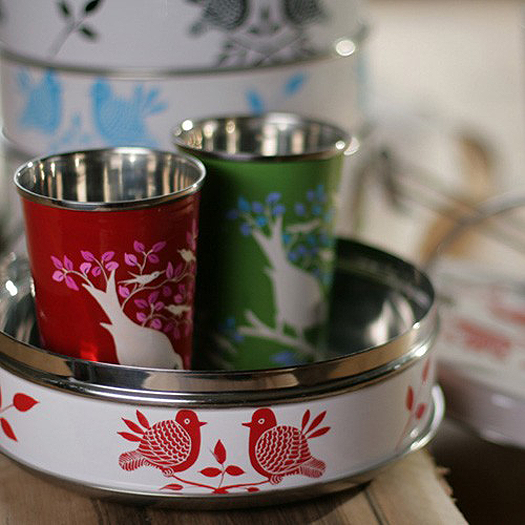 Here is a great divided plate shaped like a bus for people whose kiddos are addicted to those terrific separated Melamine plates.
2. The warmth of wood
Wood is a timeless and beautiful alternative to plastic.  This stunning child's dish set of Japanese lacquerware is thinly coated many times with a special honey-scented lacquer that is BPA free and food safe. It can stand many many drops, but alas, isn't dishwasher or microwave save. So, please keep that in mind before choosing most wood dishes.
3. Add some class with glass
A lot of people have been buzzing about Brinware dishes, and with good reason. They are adorable and made of tempered glass which can take a serious beating. And for extra durability they come with these great silicone covers which highlight the wonderful white designs on each plate. And it is dishwasher and microwave safe. Huzzah!
4. Sweet ceramic style
Just because older kiddos can master keeping their plates on the table doesn't mean they don't deserve a fun dish to eat off of. Here are some of my favorites out there:
European designer Boguslaw Sliwinski created a builder's paradise for children with this very charming dish set for kids.  I bet that would get quite a few picky eaters to nosh on their peas!
Smiling Planet, creates beautiful earth friendly porcelain that is manufactured in the USA with safe, sustainable, recycled, and/or organic materials, featuring whimsical artwork reflects their earth-friendly ethos with a message of peace, diversity, and respect for the environment.
Even Marimekko has a great option for kids. What little girl wouldn't like to see this colorful floral set welcoming her to the table?
As you can see, there are loads of fun ways to get plastics out of your life and still have style and a happy kiddo!
Do you have special plates for your kiddos?