Did I write about a download and you want to find it? It's most likely here.
Daily Docket 2.0
[download] If you'd like a simple, streamlined, useful day planner, you might like the Daily Docket. Updated from the original version (which is still available, below), this download has room for you to scribble out your day, make dinner plans, commit to taking care of yourself, and even motivation to make it through another day of LEGO-stepping.
Pocket Docket 2.0
[download] Same thing as above… sorta. There's two on a page, so it uses half as much paper. Not as many bells and whistles, but still totally gets the job done. Room to scratch out your day, decide on dinner, and remember stuff for tomorrow.
20 Questions for a New Year's Eve Reflection
[download] Here's a printable list of questions to reflect over the past year, for you to use at gatherings with friends and family, or to mull over by yourself. You can also cut up squares of the same questions to put in a hat, game-style. Also, download kids' questions! Read more here.
Goal Setting Questions for a New Year
[download] This is a printable, six-page worksheet for you to journal and brainstorm some goals for the start of a new year. Work through it with your spouse, or enjoy some alone time with a cuppa.
Discussion questions for Organized Simplicity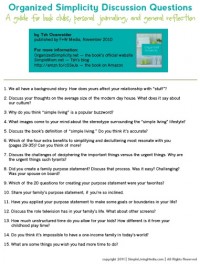 [download] Reading Organized Simplicity in a group setting? I've created a set of questions for you to use in a group setting. This is a simple discussion guide to get conversation flowing—no right or wrong answers; just an appetite-whetting for rich conversation.
Family Road Trip Packing List
[download] A full, three page checklist of what a family with small children might need on a road trip lasting at least one week. Read more about our travel tips and lessons learned.
The Original Daily Docket 1.0
[download] The most popular download—it's a complete page for organizing your entire day. Read more about how I use mine. I'd love to hear if you'd like any changes or if you have any ideas (would you like an app version?).
The Original Pocket Docket 1.0
[download] A simpler version of the original Daily Docket, these Dockets come two to a page. Fewer bells and whistles, but a greener option because it uses less paper.
Grocery List
[download] A simple, general grocery checklist to help jog your memory of what you might need at the store.
Master Weekly Checklist
[download] The list I use to decide what needs doing this week. Don't be intimidated – very rarely do I get it all done, either. Read more about how I use mine in conjunction with the Daily Docket.
Preschooler's Chore Chart
[download] This is the chore chart we use when our kids turn around 3. It contains a variety of chores for you to use. Read more about how we used this chore chart with our preschooler, and also how we handled her allowance.
Budgeting for Christmas
[download] A simple little worksheet for calculating your Christmas budget and the amount you need to save monthly.

This work is licensed under a Creative Commons Attribution-No Derivative Works 3.0 United States License. No commercial use, no changes. Feel free to share them, post them, print them, or copy them. If you bought them anywhere, you paid too much.