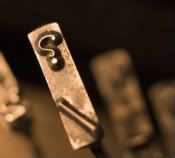 Today's Q&A comes from Rachel of Small Notebook, one of my favorite blogs (and fellow bloggers).  She's a mom of an adorable little girl – with another one on the way – and her words are succinct, meaty, and punched with meaning.  If you don't already read her blog, you should.
Rachel's question is a great one, and I can't wait to read your answers:
How do you motivate yourself to get going and accomplish your daily tasks when you just don't feel like it?
We've all been there, haven't we?  What's your mantra and modus operandi for motivation?