This giveaway is now closed.
The first giveaway for November comes to you from one great company and from, well, yours truly.  And it also happens to coincide with the next project in the 12 Weeks to Prepare for Christmas series.
Now's the best time to start working on your holiday card plans.  These days, sending digital newsletters or digital cards is the norm, but I still enjoy sending out the tried-and-true snail mail method (though yes, I detest paper clutter).  For me, it's all part of the holiday spirit to take a family photo, address and stamp envelopes, and lovingly display the ones I receive in return.
If you plan to include a family photo in your card this year, take your first shot this week while you've still got plenty of time, so that you're not rushed and have time to try again.  And if you've collated your address list, you should already know how many cards you need to order.  It'll save you money to order early with some shops, including mine.
Start addressing envelopes now, just a few at a time, and you'll be golden by early December, when you can mail all your cards in one fell swoop.  Keep your address list and envelopes in a convenient location, and write out a few at a time here and there.  It'll be painless.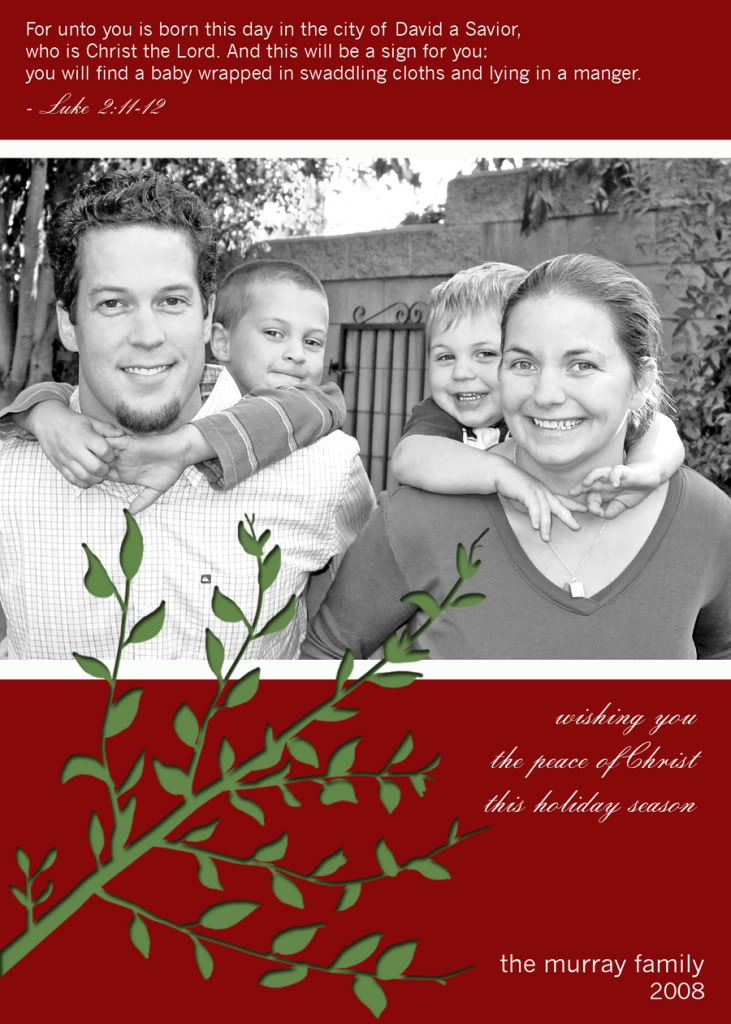 If you plan on sending out photo cards this year, then I've got an chance for you to win some in this giveaway.  One reader will win a customized high-resolution digital photo card file of their choice from Chickpea Designs, my graphic design shop. The file is yours to keep forever – you can make as many prints as you want, when you want. In addition, you will receive 10 5×7 prints of your photo card, free.
(And although I'm referring to holiday cards here, I've also got baby announcements, save-the-date cards, and birthday invites – any of those designs are eligible for this contest.)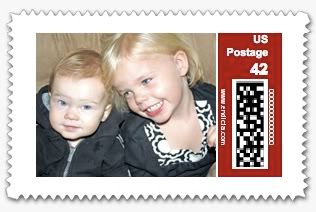 The second addition to the giveaway is from PictureItPostage.  You will win two sheets of personalized US postage stamps – simply upload your photo on their site, edit and align it, and voila – stamps with your children (or dog, or hamster, or neighbors) are headed your way.
PictureItPostage also has a hilarious contest going on right now – until November 19, upload your worst holiday photo, whether it be flat-out embarrassing or simply unflattering.  Starting December 1, people can vote for their favorite photos – and two grand prize winners will win a new Canon Digital SLR camera and five sets of stamps.  Plus, think how entertaining it will be to endlessly peruse horrible photos.  Now that's the gift that keeps on giving.
Here's how you can win a personalized photo card design, 10 5×7 photo card prints, and 20 personalized postage stamps:
1. For a single entry, simply comment below, and answer this question – what's your favorite holiday?

2. For a second entry, email me at simplemomblog (at) gmail (dot) com with the secret code in the email's subject line (no need to write anything in the email's body, as it won't be read).  To find the secret code, make sure you've subscribed to Simple Mom's feed either via RSS or via email, and look in the footer of any post.
3. For a third entry, mention this giveaway on your blog, and make sure I somehow find out about it.
This giveaway will end on Friday, November 7, midnight CST.  I hope you win!