Photo by Jenene
I really can't believe this, but this week, this blog passed a milestone. 10,000 subscribers.
You guys are the best, most talkative, most loyal readers in the world. Simple Mom would not be what it is without you all, and I am so thankful for how you've helped make this online space what it is. Because of it, I've met some amazing people in real life, and I've met even more of you virtually. Writing this blog has been such a blessing to me.
So remember how my family is a shoes-off indoors family? I'm not changing the subject. This actually relates to my celebrating Simple Mom's recent milestone.
I may take off my shoes whenever I enter my home, but I do have a pair of inside shoes, worn soley in the house. They're Crocs – the Cleo style, and I absolutely love them. The floors in our high-rise are concrete, wood, and tile – very hard on the feet all day. When we first moved here, I was honestly getting serious back pain after working in the house all day. But as soon as I got the Crocs, the back pain immediately vanished. I now hardly take a step without my shoes. Ask my husband.
But Crocs are ugly.
This is what I thought before my mother-in-law bought the Cleos for my birthday.  I didn't know how many delicious flavors Crocs come in. They've got everything from casual, daily wear:

to dressier wedges: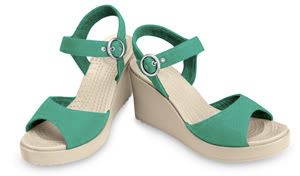 to hiking shoes: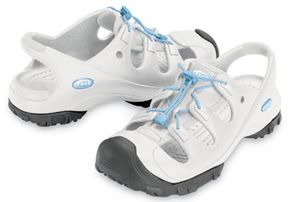 to fantastic flip flops:

I am such a fan of Crocs. Their shoes last forever, they fit beautifully, they're SO comfortable, and their customer service is excellent. It's a great company.
And guess what this great company is going to do?
Crocs is giving 10 Simple Mom readers – that's T-E-N – any pair of Crocs worth up to $50. You can choose any kind you like. Even for your kids. And even better – Crocs is giving you five chances to win. Here's how.
1. Join Crocs' Facebook Group and on their Wall, write "Simplemom.net sent me here to tell you that I love Crocs!"
2. Join Crocs' Flickr group, and then leave any comment on the post thread titled "SimpleMom.net."
3. Tweet the phrase "SimpleMom.net made me love the new spring line of Crocs #simplemomcrocs" (excluding the quotation marks).
4. Join Crocs' newsletter, and comment on this post that you joined.
5. Write a post on your own blog about this giveaway, and make sure you link to this post so that I can track it.
We will pick two winners from each form of entry, so the more ways you enter, the more chances you have to win!  Thank you, Crocs, for helping Simple Mom celebrate its milestone.
This giveaway ends next Friday, April 10 at midnight EST.