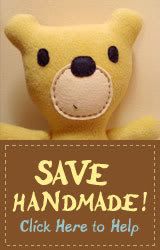 Today, the Consumer Products Safety Improvement Act (CPSIA) goes into effect.  You might have read quite a bit about it already around the blogosphere, so I won't reinvent the wheel – Cool Mom Picks has a page dedicated to this recent political move, and it's become quite the hub of all information regarding this act.  There are a lot of great links there, and I encourage you to take some time to read this info.  Please.
In plain English, the CPSIA is requiring such stringent safety measures for children under 12 that it makes it all but impossible for those mom-and-pop shops we love to stay in business.  The original idea of the act was to require companies to put more responsibility in their own hands, and to increase the safety of their toys, baby equipment, and other child-related gear.  We can assume this has to do with well-known issues such as the questionable safety of toys hailing from China, and rare but recent scares of lead poisoning in the paint of certain products.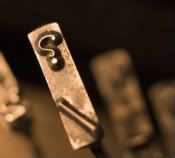 This is all well and good – but the kicker is that most of the companies responsible for these irresponsible measures can afford to up their safety measures.  The wonderful shops that create handmade goods for children cannot. So much so that they have little recourse but to close their doors.  And they weren't the ones responsible for the shady safety issues to begin with.
So, today's Q&A Tuesday has to do with today's start of the CPSIA – maybe we can voice our dedication to cottage industries so that some "big people" in Washington can take a little heed to our small voices:
How important is it to you to buy and support small, local, and/or family-run businesses?  Describe some ways that you purposely choose to support a small business over other options in your everyday life.
If enough of you share your support – and therefore, how the CPSIA will affect your spending options – then perhaps we can collectively add to the conversation about this controversial act.