Photo by Momma's Baby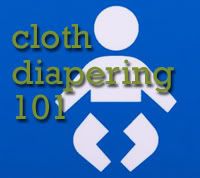 I'm currently working on a big resource list of helpful links related to cloth diapering, and it will be published tomorrow. But I wanted to write up a quick "extra" post to address the most repeated questions I found in the comments sections during our Cloth Diapering 101 week.
Q: What about those of us who don't have a washer or dryer at home (as in, I go to a laundromat, or I live in an apartment and use their machines)? Those coin-operated machines cost so much money, and won't my neighbors flip out if they hear I'm washing diapers?
A: To answer the last part first — several of you mentioned the "ick" factor about putting soiled diapers in washers, even in your own. A washing machine's very purpose is to handle the ick in fabric and remove it, making clothes wearable again. Think of those times you've washed your newborn's onesie soaked in runny poo, the sheets your toddler wet at night, or your preschooler's shirt he vomited on — you put those in your washer, right?
I know it may feel weird at first to consistently use a washer to remove poop, but it really doesn't make your machine dirty. If you dump the poop into the toilet first, you're getting the bulk of it off, anyway — especially if you use a diaper sprayer.
Now, I can understand the issue of spending $3 per laundry load in a coin-operated machine — that's not going to save you money. In this case, if you're still interested in cloth diapering, I recommend looking up a cloth diapering service in your area. Diaper services are professional laundries who rent reusable cotton diapers to families. The diaper service delivers clean diapers, and picks up the soiled diapers on a weekly basis to launder them. Check out the National Association of Diaper Services for more info.
Q: How many cloth diapers should I get?
A: There's no definitive answer to this one, because every baby and family is different. If you're home full-time and can do a load of diapers every other day, you'll need less. If you like the idea of going three days before doing a load, you'll obviously need more. And if your child is a heavy wetter, they might need more, too.
Your baby's age is a factor, too. If you go with one-sized diapers, where you can convert them to the size you need, you don't need to buy as many. But if you buy diapers in individual sizes, you'll need to start with a few and add as they grow.
So there's no hard and fast number. As for me? I have 10 pocket diapers, 3 all-in-ones, one fitted diaper, three covers, and 40 prefolds (head here for definition of these types). I have way too many. I plan to sell some soon, since I barely go through a quarter of my stash before washing.
If you're unsure where to begin, and you don't know what kind of diaper will ultimately work best for you, I recommend starting off with only a few. You can always add more as you go.
Q: I love the idea of cloth diapering, but I can't stomach the up-front cost. Thoughts on how to get around this?
A: Most of use cloth diapers for the money saving benefits — but that doesn't mean you won't get sticker shock in the beginning. If you know you want to go with cloth diapering and you're still in your first or second trimester, start saving now for your system. Just like saving up cash for all things in life, create a sinking fund for your diapers.
Many sites offer baby registry services now, too. Or you can customize your own internet-based baby registry on sites like Wishpot (here's my list of baby basics recommendations, fyi, as Wishpot's "Simple Mom Expert" — I'll make a cloth diapering one soon). Create a cloth diapering registry, and people can load you up at showers.
And if you're late in your pregnancy, or if your baby's already here, you can start off small. Just buy a few diapers at first and combo diaper with disposables. Gradually buy more cloth diapers as you find great deals, and slowly taper off your need for sposies.
And finally, remember that cloth diapering doesn't have to be an all-or-nothing game. We still use disposable diapers for long trips — there's no shame in starting off with just a few CDs.
Q: My husband can't get around the poop factor — until you can guarantee that my baby will never poop in her cloth diaper, he's not willing to try going cloth. Thoughts?
A: Aimee already addressed the poop issue in her excellent guest post answering common misconceptions about CDing. But I'll reiterate it here, too — it's the poop that's gross, not the diaper type. You still have to mess with poop in a sposie.
In fact, I don't deal with poop any more than I did with disposables, and I think the smell is actually less, since we flush 99% of it down the toilet. If he seriously won't even put a disposable liner into the toilet, I've read some comments this week that some people don't even get rid of the poop before throwing it into the washing machine! Apparently that's okay.
The other most common questions were mostly related to finding cloth diapering resources. I'll be sharing a bunch of links tomorrow, so hopefully those questions will find their answers then. In the meantime, let me know if you have any more questions, and I'll ( or any other CD mama out there) do my best to answer them!
Don't forget to enter the cloth diaper giveaway going on right now — it ends Sunday night!