Photo from Susannah Paul
I get quite a few emails from readers asking for my opinion on cloth diapering. From handling the up-front cost to the cleaning to the poop, making the switch cloth diapers can feel overwhelming before you take the plunge. Since this blog focuses on making things simpler at home, it's an honest question–do cloth diapers really make life easier?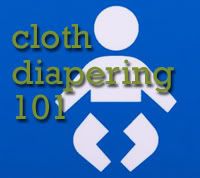 There's so much information to cover, I thought it best to make an entire week of Cloth Diapering 101, where we'll discuss the multiple cloth diapering choices, dispel the common myths behind them, share a step-by-step process for dealing daily with cloth diapers, and give honest reviews of different brands. We'll end with a comprehensive list of useful links to make switching to cloth diapering easier, along with a little giveaway for some of the best brands in cloth diapers!
What Cloth Diapering 101 is Not About
The last thing I want to do is discourage a parent and make them feel not up to par. If you've made a conscious choice to go with disposable diapers, that's okay by me. We still combo diaper–based on where we live, it's much easier to get out for the day in disposables. So this week is not meant to make those of you who choose to use disposable diapers feel badly.
But I do encourage you to make a deliberate choice, and don't assume disposables are the best choice without investigating your options. I'm new to cloth diapering, mostly because I just didn't take the time to look into cloth diapering. I wish I looked into it sooner! Thinking about the money we could have saved makes me cringe.
No matter your decision, make it a well-informed one, and don't write off cloth diapers without first learning more about them.
A Newbie's Guide to Cloth Diapering
As I mentioned, I'm rather new to cloth diapering. I hesitated for the longest time, mostly because it seemed like so much work. There's scores of information on the internet, and much of it is contradictory–pocket diapers are better than prefolds! But prefolds are the true economical choice! Cloth diapers are worse for the environment because of the water use! No wait–it's worse to throw away human waste into our landfills!
It's hard to sort through it all.
From my experience, I learned that in taking the plunge and just trying some sort of cloth diapering choice, you'll learn quite a bit rather quickly. You'll find what works for you, because it turns out there's lots of ways to cloth diaper, and no one way is the right way. You'll get a feel for what works best for your babies bodies and your budget, and you can slowly add to your cloth diapering system, as your pocketbook and needs allow.
Don't let all those strange words and acronyms confuse you (PUL, AIO, and DSQ, anyone?). Find the answers to your questions, and ask the mamas who seem to be cloth diapering experts for sage advice. Be careful for those CD evangelists, though–they're out there!
I know you all have your cloth diapering opinions, and that's good. But I encourage you to spend this week either re-affirming your choice to cloth diaper, learning more about the CD process and making a decision to go cloth, or rest assuredly that disposable diapers are the best for you.
What are your biggest cloth diapering questions or issues?