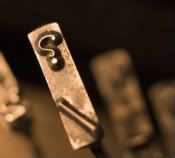 Carrie & Danielle is a duo-authored site dedicated to living an inspired life and making a difference in the world.
They ask their readers a daily question, which range from deep and thoughtful, to light-hearted and whimsical.  They also feature regular interviews with people – recently they queried Guy Kawasaki of "The Art of the Start," Leo Babauta of Zen Habits, Erin Doland of Unclutterer, and Grace Bonney of Design*Sponge.
They kindly asked to interview me, so I did my best with their outstanding questions – you can read the interview here.
Today's Q&A Tuesday is also posted over at Carrie & Danielle.  I'll be over there with my own answer, along with reading all of yours. Comments are closed on this post – so click on over, and I'll see you there!