This giveaway is now closed. The winner is Shelly S – congratulations!



Today is the last day of the Week of Giveaways. We've seen some pretty cool stuff around here this week, if I do say so myself.
The first giveaway is from Ruth Michael, a small business run by Ruth, who makes beautiful items from gorgeous fabrics. She creates backpacks, diaper bags, overnight bags, and even wallets. But I love the concept of what she's giving away to one Simple Mom reader.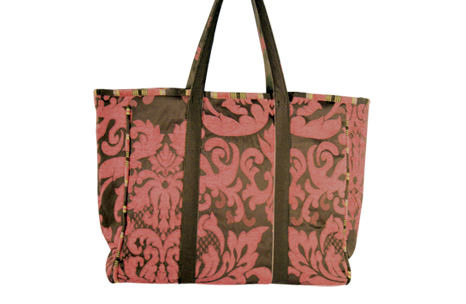 It's simply called The Carrier. It's basically a bag that you can use in your car to keep you organized. The Carrier has an open-top bag with the dimensions of a large show box, and it has pouches in the end and pockets on the sides.
You can put your coffee travel mug or water bottle in the end pouches, your mail and papers in the side pockets, and then kleenex boxes, magazines, notebooks, gameboys, candy and snacks in the large middle compartment.
This creative invention was born out of necessity from a typical mom of three battling car pool craziness – pretty ingenious, I say.
One Simple Mom reader will win his or her choice of a Carrier from Ruth Michael! They retail for $90.
Here's How To Win:
1. Leave a comment on this post, answering this question – What is one of your least-favorite weekly errands?
2. To get a second entry – and a second entry on all the giveaways this week – subscribe to the Simple Mom feed and email me the movie quote at the bottom of any post in your feed reader or email inbox (there is only one quote for all the giveaways). Send it to simplemomblog (at) gmail (dot) com, and put the quote directly in the subject line. The body of the email won't be read.  And you only need to email me the quote once in order to get a second entry for all the week's giveaways.
3. Finally, to get a third entry, post or tweet about this giveaway – if you use the URL of this post, I'll receive it – no need to email me.
This giveaway will end this Monday, February 2 at noon EST. I hope you win!