Photo by Caryn Werner
I loved the posts recently at Small Notebook and at Almost Frugal, where Rachel and Kelly both answered some more personal questions about themselves.  Since I've got quite the backlog of questions from you guys, I thought I'd take some time and answer the personal ones.  So here goes…
Everything You Might Want To Know About Me
Well, okay…  maybe not that much.
Q: What is your favorite time of day?
A: Morning, hands down.  I used to be a night owl, but something happened over the past five years or so.  Not sure what it was, but now, I love waking up early, especially if I'm the only one up.  This is, of course, if I've had enough sleep.  Which has not happened since being in the States.
Q:  What foods do you miss from the U.S.?
A: Now that I'm here in the U.S. for awhile, I've remembered how much I love variety.  It's not one particular food that I long for, but I do love a wide variety of things.  America's a melting pot, so we're blessed with great Chinese, Tex-Mex, Italian, and everything in between.  I think I miss the availability of certain ingredients more than overall meals – I just love perusing stores like Whole Foods and Central Market.
If I had to pick one craving, I guess it'd be anything from Chuy's.  And soup from La Madeleine.  And good-quality desserts.
That's more than one, isn't it?
Q:  How old are you, and how long have you been married?
A: I'm 31 years old, and we've been married six years.  My husband and I met in Kosovo, part of the former Yugoslavia.  I was teaching English, and my husband was working as a contractor, helping rebuild houses following their recent war.  We officially dated for five months, and then we were engaged for five months and one day.  And the rest is history.
Q:  Do you have the most amazing bakeries where you live?
A: Do we!  We've yet to find stellar desserts where we live, but the bread – holy moly.  It is soooo good.  We buy our regular bread from our neighborhood bakery every few days.  When we have company, or when we're making something special, we also have our choice of all sorts of unique breads.  We are indeed spoiled, and it would indeed be difficult to be on a low-carb diet in our country.
Q:  Have you always loved travel?

A: Ironically, I don't love traveling nearly as much as I used to.  When I was single, I thrived on change and exploring new places.  Even as newlyweds, my husband and I enjoyed some pretty far-off trips.  Now…  I crave home life.  I'd actually love to see more of the U.S. – I've seen more of other countries than I have my own.

My husband and daughter in Greece.
Q:  What are some of your favorite countries to visit?
A: Each place we've visited has its highlights, but I think my favorites so far are Ireland, Greece, and Thailand.
Q:  What part of home life do you struggle with?
A: Cleaning.  I love organizing, decluttering, and decorating, but I'm not so thrilled about the dusting, scrubbing, and mopping part.  But it's gotta be done.  A necessary evil.
Q:  How and why did you start your blog?
A: I've blogged about our family since 2005, and I've always loved writing.  I wanted a separate space to log my home management ideas, saving my personal anecdotes and family mishaps for the family blog.  So earlier this year, when my son was a newborn and I was pretty much home all the time, nursing and sleeping, I started reading up on how to blog professionally.  This was my down time of choice while I was nursing, and I soaked up all the information I could from places like Pro Blogger, Daily Blog Tips, Copyblogger, and Skelliewag.
After getting a decent foundation of blogging knowledge under my belt, I took a big leap and bought the domain SimpleMom.net in February of this year.  A few months later, and here we are today.  Pretty wild.
Q:  Is blogging your full-time job?  Does it strike the balance between fostering your creative side and providing a steady income?
A: Sometimes it feels like a full-time job.  But in normal circumstances, I work on the blog about 15 to 20 hours a week.  Broken down hourly, it provides nice additional income, and is worth the time.
It most definitely strikes the creative and practical balance I need.  I love writing.  Always have.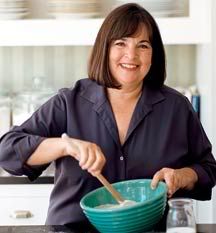 Q:  Do you watch TV?  What shows are your favorites?
A: I rarely watch TV.  Back at home we usually just watch movies, but in the States, I do enjoy channels like Food Network, HGTV, and sometimes TLC.  I guess my favorite shows would be Project Runway, What Not To Wear, and Barefoot Contessa.
My lack of TV watching is simply because there's so many other things I'd rather do with my time – read, write, or craft.
Some final tidbits…  I cannot survive without coffee, I don't like wearing socks, and I love good-smelling quality candles.  I don't like having the same hair style for too long, and I wish I had more time to read.  I was the editor of my high school newspaper, and I was in ballet school for 13 years – at a fork in the road when I was 16, I almost went down the road of pursuing dance professionally.  I decided against it (thankfully), and instead went to UT and majored in English and anthropology.
The idea of a perfect morning is curled up by a fire on a crisp, cold morning, book in one hand, coffee that magically never gets cold in the other.
Feel like your know me a little better?  Hope so.  Thanks to all of you for being such dedicated readers and such a lively community.  You have made this little place what it is.  I'm humbled and grateful.
Enjoy your Thanksgiving holiday!