If you remember, my typical posting schedule here is a Monday-Wednesday-Friday routine of new articles, with a link round-up post on Saturdays.  Tuesdays and Thursdays I reserve for smaller tid-bits of info, or else I take a break altogether.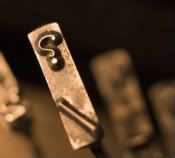 But I thought it would be fun to start an easy little series here on Simple Mom.  Every Tuesday, I'll give you a chance to provide the blog's content.  I'll ask you a question, and you, the readers, will give it your best shot.  No worries, I'm not talking quadratic equations or empirical formulas of compounds.  I don't even know what that means.
Here's today's question:
Where do you like to shop?
I'm referring to your own clothing here.  The store can be online or off, but what I'm looking for is your favorite stores where you actually shop, not the ones you only wish you could.  The criteria in my search is 1. quality is more important than cheapness, but 2. it must still be relatively affordable.
The reason I ask is because we are heading back to the States for a visit in a few weeks, and I am in desperate need of new clothes.  As you might guess, I favor having fewer clothes that are higher in quality.  I need to replenish my wardrobe with some classic pieces.
Alright, I leave it to you, readers – tell me where to shop!
Lisa Leonard Designs Giveaway Winner
On another note, random.org picked the winner of the necklace giveaway out of 1,056 entries.  Once again, you guys know the goods when you see them!  The winner is Shama Lama of Shama Lama Mama! (Say that ten times fast.)  Congratulations – look for an email from me in your inbox so that I can pass your mailing address on to Lisa.  And for those of you who didn't win, head over to Lisa's shop and order your Christmas gifts – proudly support work-from-home moms.