It's Monday morning, the start of a new week. I'm not a fan of them either, but I choose to look at Mondays as the day that sets the mood for the rest of the week. When I wake up to a relatively straightened-up home with a penciled-in sketch of a game plan for the week, I'm more positive about another day.
If I haven't made a menu plan for the entire month, I'll create one for the week on Sunday evening. If you haven't made yours yet, you've still got plenty of time. This week's task in Back to the Basics? Create a menu plan, and start making this a regular habit in your household.
This week's task:
Create a menu plan for this week, and possibly for the next two weeks.
Who this involves:
You, mostly, though you should take all the family members' food limitations and favorites into consideration.
How long this will take:
It might take you longer if you're new at this, but it will get faster each week, especially if you repeat your weeks. I'd set aside about an hour to search your cookbooks or your recipe bookmarks online.
The process:
Go through your current food stash and note what needs to be used up, then pore over your recipes and decide on what to make for dinner this week. Create a shopping list based on your plan, and write down your menu, either with pen and paper, or in an online calendar.
The goal:
A useful menu plan that works specifically for your family's needs, aligning with your mission statement.
Why Plan a Menu?
Menu planning is part of a frugal home that wants to eat well, not waste food or money, enjoy the cooking process, and make sitting down as a family at the table a priority.
Just a few of the benefits — you can:
plan for meals based on what's already in your fridge and pantry
make a well-rounded, nutritious game plan with a variety of foods throughout the week
reuse leftovers creatively, not letting them go to waste
cook what's in season and what's on sale, saving you money
you also save money by buying what you know you need
grocery shopping goes faster because you know what you need
not have that panicky, "What do I whip up for dinner?" feeling at 5 p.m.
It gets easier and easier to menu plan once you make a habit of doing it weekly or monthly, and there are a number of methods that simplify the process.
Tips & Tricks for Effective Menu Planning
As I mentioned in the introduction to the Back to the Basics series, there will be almost nothing new mentioned. Going "back to" something implies that this idea has already been part of home management for generations, and that we'll simply be discussing the tried and true techniques out there.
Here are some hacks many families use to make their menu work for them:
• Have a daily theme. We do this — Mondays are pasta; Tuesdays are soup, salad, and/or sandwiches; Wednesdays are stir fry; Thursdays are crock pot; Fridays are pizza; Saturdays are something new, and Sundays are something easy.
An example of this is our month-long menu plan from April.
• Repeat your menu every two weeks for a season. Most of us don't mind eating a meal twice a month, and when you create a two-week menu plan, you can be set for a few months. Try creating a two-week plan for the summer.
• Cook in advance. We'll discuss this more when we get to batch cooking and freezer meals, but if you plan on repeating a week down the road, go ahead and make a double batch of tonight's dinner. Then when that next week rolls around, you're already set.
• Use a calendar program like Google Calendar. I wrote about how I use this method here.
• Plan with the seasons. I find our summertime menu plans easier, because the food is lighter and easier to prepare. Create tomato-based dishes during the summer, when they're in abundance and fresher (and also much cheaper).
• Post your menu plan on your blog each Monday, then submit it to Menu Plan Mondays on Org Junkie. It'll keep you accountable to doing it, and you can find lots of ideas from other families.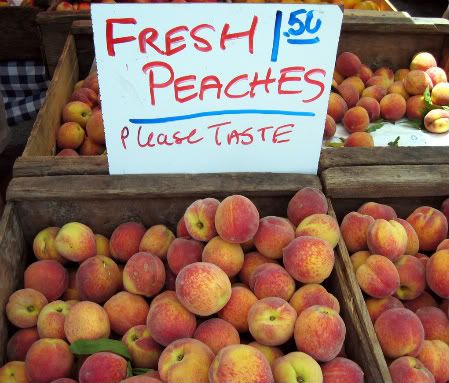 A Few Thoughts About Grocery Shopping
Shopping for food is easier when you plan a menu. You know exactly what you need and don't need, and you can intentionally plan to cook what's cheaper and in season.
Here are a few tips to make grocery shopping easier and to make your food more palatable:
• Shop your local farmer's market once a week. You know what I mean if you read Animal, Vegetable, Miracle in the book club this spring. You're supporting the local economy, your food is infinitely fresher, you're eating what's in season, and you'll actually save money — it's not very expensive.
Many farmers harvest organic produce and meat, but can't afford the costly "certified organic" label from the USDA. Chat with them about their farming process, and you'll be able to find a farmer that meets your family's need for quality produce at a fraction of the price.
Local Harvest is a great resource to help you find a farmer's market near you. You can also get info on joining a community-supported agriculture service (CSA).
• Keep your grocery store trips to every two weeks. If you buy most of your perishables at the farmer's market, you can stock up on your staples at the conventional store. With a two-week menu plan, you'll only need to go to the grocery store twice a month.
• Use coupons, but make sure you don't buy more than you need. If you wouldn't eat the food anyway, you're not saving money by buying it with a coupon. Money Saving Mom and Deal Seeking Mom are great resources for coupon deals and for tricks on getting more bang from a store's sale.
• Create a master grocery list. I have a simple one you can download for free, but the one we actually use is sorted by aisle at our particular store. Once you develop a shopping pattern, you'll find that you usually buy the same things repeatedly.
Craft a simple grocery list in Excel, organized by aisle from your usual shop. Print it off weekly and keep it in the kitchen. Simply tick off items as you need them, and when it's shopping day, your list is already set. We pared down our shopping time by half when we organized our list by aisle.
• Make a master price list. How often have you found olive oil on sale, but can't remember if that's actually a good deal compared to other stores' prices? Create a simple list of the best normal prices on your staples, and where they can be found. Keep it in your home management notebook, and take it with you on shopping day.
• Oh, and don't forget your reusable bags. Keep them in your car or your purse.
Your Assignment
Today, plan your menu for the week. Perhaps publish it on your blog, and then share it on Menu Plan Mondays.
Just focus on dinner for now, but if you're a seasoned pro at menu planning, take a stab at planning breakfasts and lunches, too.
Don't worry if it's in pencil because it might change — that's okay. Ours does every week. It's there to serve you, not to force you in to a plan that doesn't work.
Let your family mission statement guide you, if that helps. Since one of our family's values is to "take care of our health," we will plan a menu that is made of real food. Because we also want to "be good stewards of creation," we will mostly eat local food. We also value simplicity, so no complicated food here.
Resources
Here are some articles I've already written about menu planning:
And here are other good posts from other bloggers:
What are your tips for menu planning? Feel free to link to a post on your blog, if you've written about it. And if you write your week's menu on your blog, feel free to share that here, too.