This giveaway is now closed. The winners are Syndi, Amy, Leah, Jenevra, Jenn, LeeAnn, Katherine, Toiling Ant, Lauren, and Charissa – congratulations!


Next up is a great new ebook called "A Month of Meals."  Jamie Ussher has written a fabulous, easy to read compilation of everything you'd need to feed your family for an entire month.
Jamie uncomplicates the entire process by breaking down every little thing you might need, from recipes to ingredients.  First, she explains why healthy eating is so important, that reading the ingredients instead of the calorie count matters more for long-term health.  To be honest, reading this meant, to me, that her recipes are quality and dependable.  I can trust that everything in this ebook has passed the health test.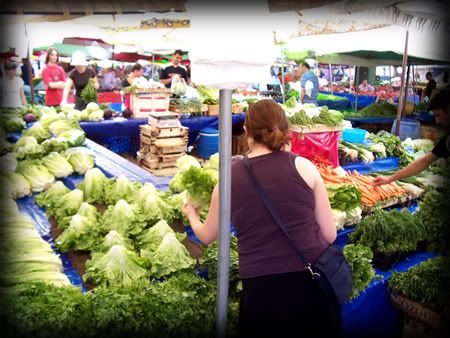 Yours truly, at my neighborhood farmer's market.
All the recipes are easily organized, and they are so easy. She also includes recipes for side dishes that tie in with the main dishes, recipes for salad dressings and mixes, and provides a simple plan that breaks down when to do it all.
Also included are weekly grocery lists, lists of healthy foods, tips for getting kids to eat healthier, and a guide for helping you keep track of your nutritional intake.
Jamie then ends with a reminder about world hunger, and how living simply and eating well means positively impacting the world's hungry.  I love that she ends on this note.
Seriously, readers, this is a fabulous ebook, chock full of useful information and practical ideas. If you like reading Simple Mom, then you'll like this ebook!  I plan on using her ideas in my own home.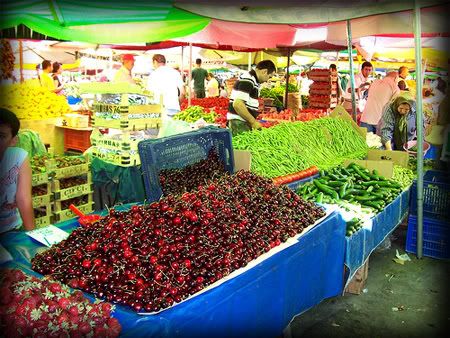 Cherries in season at my market.
Ten readers will win a copy of A Month of Meals! This ebook is currently on sale at $6.95 – it normally retails for $19.95.
Here's How To Win:
1. Leave a comment on this post, answering this question – What's your standby family meal on a busy day?
2. To get a second entry – and a second entry on all the giveaways this week – subscribe to the Simple Mom feed and email me the movie quote at the bottom of any post in your feed reader or email inbox (there is only one quote for all the giveaways). Send it to simplemomblog (at) gmail (dot) com, and put the quote directly in the subject line. The body of the email won't be read.  And you only need to email me the quote once in order to get a second entry for all the week's giveaways.
3. Finally, to get a third entry, post or tweet about this giveaway – if you use the URL of this post, I'll receive it – no need to email me.
This giveaway will end this Friday, January 30 at noon EST. I hope you win!