This giveaway is now closed. Congrats to Amber, the winner of the gift basket!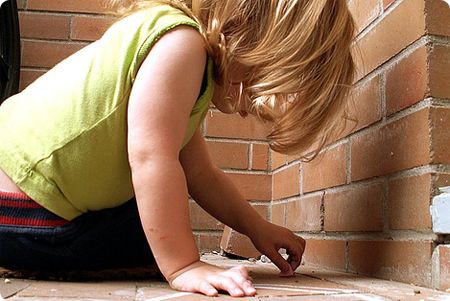 Photo by Jude Kyle
Today I've got a gift basket giveaway that enhances life with little ones.  Since this blog is about simplicity, and since it's geared towards parents, these products align perfectly with our entire philosophy here.  Plus, I love that every one of these companies are mom-owned and operated.
One reader will receive all of these items as one gift basket plethora of childlike goodness!  Read on.
Oliver Handmade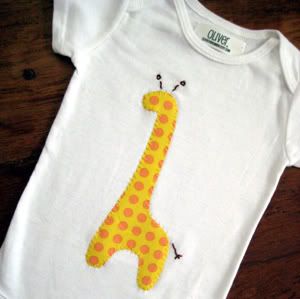 Erin has a darling shop, Oliver Handmade, where she sells her hand-appliqued and embroidered onesies, shirts, and bibs for little ones.  I especially love the animals – she's got everything from elephants to crabs to elks!
For the gift basket, Oliver Handmade is giving a 3-6 month short-sleeved onesie with her Gerry the Giraffe design.  Too cute.
Swingset Mamas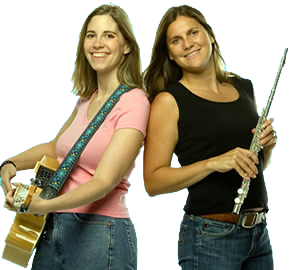 These two moms named Swingset Mamas are song writers and performers who've collaborated on two CDs of music for the entire family.  Their lyrics are fun and educational, and – well, let's just say their music doesn't sound too much like kids' music.  The parents won't go insane listening to it.  It's a win-win!
Swingset Mamas is giving away one copy of their latest DVD, Swing, Dance and Sing.  You can see more by heading here for a compilation of their work.
Shape-Its
Michelle, a busy mom, invented Shape-Its, which are aluminum cook-top and oven-safe food shapers.  They come in over 30 different designs, and you can create concoctions like individual turtle pizzas, pterodactyl pancakes, giant airplane cookies, and heart hamburgers.  What kid wouldn't love that?
Shape-Its is giving away two holiday kits, just in time for Christmas!  Each kit contains a tree, star, and angel shape, along with decorating gel, sprinkles, and four food-safe markers.  And because they've donated two, that means one additional reader will win a kit!  Thank you, Michelle.
Little Alouette
This is a very sweet mom-and-pop shop (literally), where they make all-natural wooden toys and baby gear for little ones from their home.  Little Alouette creates blocks, rattles, and more, using maple wood and organic seed oils as a finish.  Their stuff is beautifully simple.
Little Alouette is giving away a maple rattler teether, perfect for your baby or for a baby shower gift.  Let the drooling begin.
Ambajam
Ambajam carries the cutest baby gear, including mix-n-match clothing and accessories and some really great blankets, quilts, and pillows.  Their cuddle blankets get rave reviews around the blogosphere – most have said they're like squeezing a cloud.
Ambajam is donating a mini cuddle to the gift basket, a great on-the-go blanket made with double-sided plush felt, and adorned with an embroidered baby turtle.  Love it.
Swaddlebees
Margarita began sewing diapers for her newborn in 2004, and today, she runs Swaddlebees, her organic fabric diaper business that also sells covers, accessories, and high-quality cloth diapers in 32 designer fabrics.  The diapers are lined with organic cotton, which is non-toxic and non-irritating, and contain no bleach, chlorine, or pesticides.  Its specially-woven microfleece is 95 percent less susceptible to detergent build-up.  Cloth diapering is now just as easy an option as disposable, with so many choices, supplies, and well-made materials.  They just make so much sense ecologically and economically.
Swaddlebees is giving one reader one of their latest pocket Econappis in a fun print.  This is perfect for the parent who wants to give cloth diapering a spin.
Laugh-Friendly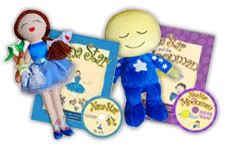 Two sisters, Elizabeth Sills and Elena Patrice, created the world of Nana Star based on characters created years ago by their grandmother.  The stories are above all concerned with inspiring character by encouraging traditional values like compassion, kindness, and generosity.  Their beautifully-illustrated picture books are created to build character in youngsters – they promote positive values in a simple and imaginative manner.  So sweet.
The Laugh Friendly publishers are giving a wonderful set to the gift basket – the books "Nana Star" and "Nana Star and The Moonman," a Nana Star poseable doll, and a Moonman Lovey.  In addition – and this is what I just love – they will give the winner an additional one to donate to their favorite charity, children's hospital, library, school, organization, or caregiver.  What a quality company.
MetroTots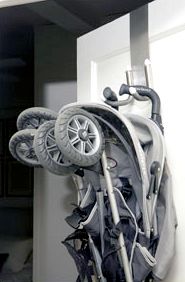 Mary Ann Schwanewede of MetroTots is an urban mom in New York City, and had a problem I can definitely relate to – where to store the stroller.  Those of us that live in metropolitan cities – and the suburbs, too – know that storage space is at a premium, and strollers can be cumbersome-yet-essential gear.  She created the StrollAway, an over-the-door storage system that works for most models of strollers.  It's made of durable steel and is adjustable to nine different positions.  So simple, but it's brilliant.
MetroTots is giving one StrollAway to the gift basket.  You better believe I'm psyched about a product that is both created by a mom and reduces clutter and streamlines home organization.  I'm in love with this thing.
Whew…  What a giveaway, no?  The total value is over $230 – most of this would make wonderful Christmas presents, so it's just in time for the holidays.
How To Win
1.  Leave a comment on this post and tell me something cute your little one does or says (or if you're not a parent, it can be any little one in your life). I know this will be really challenging for you.
2. For a second entry, blog or Twitter about this giveaway and make sure I know about it.
No secret code this time…  I'm still recovering from the last secret code giveaway.
This giveaway ends on Wednesday, December 3 at midnight CST.
I hope you win!