We're switching up my usual food talk today to chat about another subject I am passionate about: cloth diapers!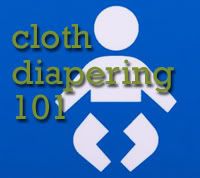 When Tsh asked me to expand my repertoire to write about cloth diapers (CDs), I eagerly jumped at the chance to share my personal experience with you. There are so many debates going on about CDs versus disposables, and so many opinions about which is better, so I don't want to just spit out more random facts and biased feelings on the subject.
Instead, I want to share with you what I have personally discovered about cloth diapers over the past three years. If, by sharing my perspective of CDs, I can encourage you or answer a question you may have had, then I have succeeded. The best thing I can do is share my experiences, and you can take them or leave them.
That said, after daily interactions with two little bums, here are a few cloth diapering questions that I encounter often, and my responses to them.
1. I consider myself to be pretty green, but I've heard that neither cloth nor disposable diapers can claim environmental superiority. Why bother with cloth?
This is a hot debate right now and it is difficult to find unbiased data on it; however I feel my choice is the most environmentally friendly for my location. Here's what I am doing: first off, all waste goes directly into the toilet to be flushed into the sewer (did you know it is illegal to dispose of human waste in your garbage?), then I wash my second-hand cotton flats in cold water with biodegradable soap; finally, three seasons out of four, I air dry them on the clothes line.
People can grumble about the precious water I use to wash the diapers, but I am fortunate that water is plentiful where I live.  Someone living in Arizona, however, may want to choose differently than I have.
With this process in place in my home, I've managed to eliminate the number one category of household waste, and that feels great.
Obviously potty training your children early is the greenest way to go–eliminate diapers altogether!
2. Isn't it a lot of work?
Okay, if you're concerned about a lot of work, maybe having kids isn't the best idea for you! Heh!
Although it may seem like there are a lot of steps involved with CDs, they seem to simplify with practice, and practice is what you get! Remember when you gave your baby its first bath? It was a long, terrifying process! There were all these steps to remember, many items to assemble ahead of time, and the slippery baby seemed too awkward to hold.
Compare that experience to bath time now– it's a cinch, right? In a similar way, cloth diapering soon becomes as easy as tying a shoe, and just one more load of laundry.
3. Don't cloth diapers cost a lot of money up front?
There are already so many purchases to be made that come with the arrival of a newborn that the cost of outfitting your baby's bum can seem like a big hurdle. When our firstborn arrived, my husband and I considered our options and decided to purchase a new cloth diapering kit, and go with second-hand for many of the other baby items that were needed. One of the advantages to cloth diapering was fully realized when our second son came along–no start-up fee! We were already in business.
Remember, prices may vary, but my initial start-up cost was not nearly as pricey as most people think. At Bummis, our local CD Mecca, we spent a total of $300 to outfit our little one in styling CDs from birth to potty. If all goes as planned and I use the same kit for a third child, we will have spent $100 per child on diapers. Yes, yes, one must factor in the detergent and other costs, but still, you have to admit it is a fraction of the cost of disposable diapers!
4. I'm afraid of the smell; how do you combat odours?
With the exception of that one staggeringly smelly moment when I transfer my diapers from their pail to the washing machine, they don't pollute my bathroom at all. In fact, my kitchen compost is ten times worse! I'm fortunate to have a few windows in my laundry room that I can fling open during the washing process and that helps quickly to clear the air.
At this point, I've already eliminated the waste and partially rinsed the diaper in the toilet (if needed), so there is no decaying pooh sitting around. Between washings, my diapers sit in their airtight pail in a vinegar-water soak which starts the cleaning process immediately. Also, my diaper pail is washed and disinfected with each load; my garbage bin would probably smell a lot nicer if it got washed between each change and stayed as fresh as the diaper pail!
5. Aren't you afraid of poking your baby with a pin?
I still get this question!  Folks, I don't think you can even buy diaper pins anymore. Nope, no more storing them in a bar of soap to keep them sharp, no more cute pink and blue heads, no more diaper pins, period. There are several methods for diaper fastening nowadays, but my preferred method is the Snappi Cloth Diaper Fastener. It is an affordable $2.29!
To give you an example of their durability, I used the same one the whole time my firstborn was in CDs. I tossed it when my second baby came along and splurged on a new one, though. Here are some photos that demonstrate how the Snappi is used.
6. Isn't it terribly messy?
If cleaning cloth diapers conjures up images of kneeling in front of a galvanized washtub, scrubbing poopy diapers on a washboard, then you are in for a pleasant surprise. I would like to introduce you to….the flushie. This disposable, biodegradable liner sits inside the diaper and makes it possible to pick up solid waste and deposit it directly into the toilet. Voila. I use the Bummis Bio-Soft Flushable Liners.
For sanitary reasons I have my change table in my bathroom and I find this set-up works really well. I love having the sink right there for washing baby, as I tend to use a warm wash cloth rather than a disposable wipe.
The bottom line? Baby's diapers are messy no matter whether they are cloth or disposable–it's the pooh that is messy!
7. Um, I hate to bring it up, but what about liquid poo?
Oh, yes, it happens. I've heard some mothers say that they change (and wash) their child's clothes with every pooh because the disposable diaper doesn't contain it. That's a lot of extra laundry I've thankfully never had to do. My experience was that the diaper covers made such a reliable seal around baby's legs and tummy that messy leaks were always prevented.
Since we're on the subject, you should know that the aforementioned flushie is rather helpless to combat liquid pooh; however, I have a trick for a quick clean. I drop the entire diaper in the toilet water, then, holding one corner (usually the only clean one), I flush the toilet and essentially give the diaper it's own 'swirly' to rinse it before depositing it into the diaper pail.
Don't worry, this too shall pass; things tend to solidify down there with the introduction of solid food.
Okay, enough talk about pooh! Well, almost.
Here are a few small things I wish I have been told before I started cloth diapering:
• CDs can sometimes add extra bulk to the baby, so for example, if your child is 12 months old, keep those 18-month outfits around! You're might need them.
• Extra bulk around the midsection sometimes means slightly restricted mobility. Your baby might sit, crawl and walk a few months behind "schedule." I was always fine with that. Less running for me!
• A cute diaper cover works perfectly for a bathing suit. With its elastic seal around the waits and legs, it traps any 'floaties'! No need to spend money on those expensive Little Swimmers.
• Putting a line-dried cloth diaper on baby is like trying to diaper them with a sheet of plywood. Those things dry stiff! It's not a bother, though, in the end. Ha! Get it?
Do I think that CDs are for everyone? No. Has it suited my lifestyle and integrated well into my mothering? Absolutely. In the end, each mother (or father) has to do what best suits their lifestyle, and then be at peace with their decision.
Parenting is challenging enough with out stressing over the minor details. Hopefully this post and this Cloth Diapering 101 series will help you with your decision.
What are your thoughts on the environmental pros and cons of cloth diapering? Is it debatable?